Here's Why Peptides Deserve to Be Part of Your Skin Care Routine
As a beauty editor, I've tested literally hundreds (yes, hundreds) of skin care products. With new ones dropping as fast as viral memes, I'll admit—it can be difficult to stay on top of all the latest and greatest complexion-improving formulas. So I'm here to help you cut through the nonsense with one ingredient you should make room for in your routine: peptides.
What Exactly Are Peptides?
"Peptides are the building blocks of collagen and elastin fibers that are found in our skin," explains cosmetic chemist Ron Robinson. They're short chains of amino acids, and can tell the body to produce even more collagen.
"When applied to the skin as a topical serum or moisturizer, the peptides act as a messenger," says dermatologist Michele Green, who explains that they will then stabilize and transport compounds that are important to the production of collagen. Thanks to this, peptides can help reduce the appearance of fine lines and wrinkles—but that's not all.
Peptides can help reduce the appearance of fine lines and wrinkles—but that's not all.
Since peptides are comprised of up to 50 amino acids, they're also incredibly mutable: "All you have to do is add, subtract, or replace one of those amino acids, and then you have a new peptide that might have a different function," Robinson explains. According to recent research on the topic, these functions include smoothing, firming, reducing inflammation, and locking in hydration.
Two Key Kinds to Know
There are hundreds of peptides, but the ones in your skincare—particularly tetrapeptides and hexapeptides—have specific physical properties that impact what their functions are. "When you look at products that contain tetrapeptides or hexapeptides, they both have different functions because of their chemical structure and properties," Green says.
Board-certified dermatologist Marisa Garshick of the Medical Dermatology and Cosmetic Surgery Centers helps illustrate this, noting that hexapeptides (with their six amino acids) brighten, while tetrapeptides (which have four amino acids) boost elasticity and firmness. One product that features both is StriVectin's Peptight Tightening and Brightening Face Serum. Together, they work to help even skin tone for a tighter, more youthful-looking appearance.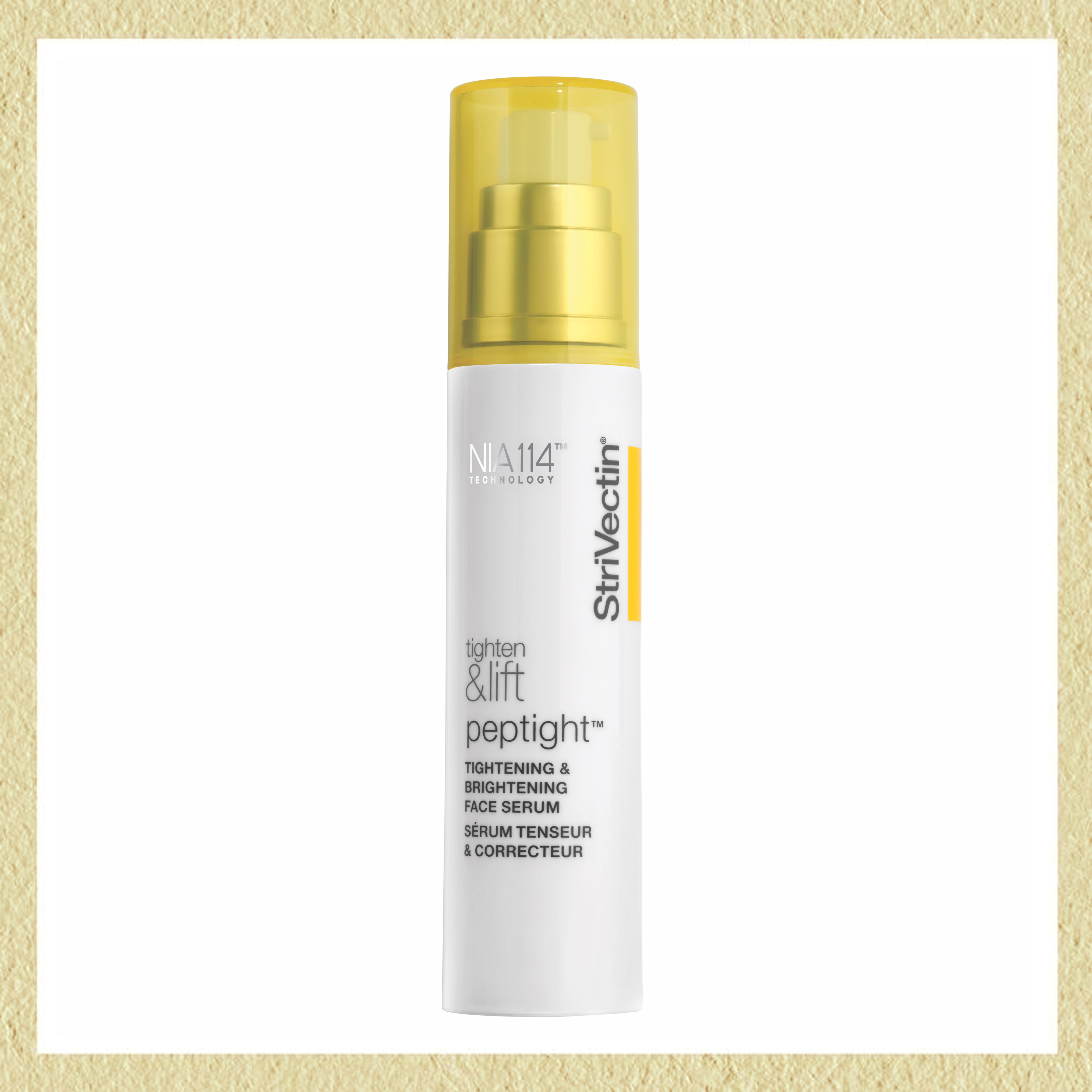 How to Choose Your Peptide Product
Robinson points out that, despite how versatile peptides are, you still need other elements in your skin care routine for it to be the most effective. For maximum benefits, he suggests using them in conjunction with other complementary ingredients, which you can achieve with combination products like the StriVectin Peptight Tightening and Brightening Face Serum.
Robinson touts the serum as an optimal source of peptides, as it combines them with hydrating hyaluronic acid, Vitamin C-rich Kakadu Plum Extract, and the brand's NIA-114, a patented form of niacin designed to help strengthen the skin barrier and boost the efficacy of the serum's other ingredients.
Garshick emphasizes making sure your product is packaged in an opaque container, which will keep the formula stable by shielding it from direct sunlight and intense heat.
My Results
With Garshick and Robinson's comments in mind, I decided to test out the Peptight serum for myself. As someone with extremely sensitive skin, I'm afraid of irritation whenever I add new ingredients to my regimen. So I always proceed with caution.
I dispensed a pump of the serum onto the back of my hand and initially felt skeptical about its texture because of how viscous it was. (My skin has an affinity for thin, water-like formulas.) However, moving to my face, the liquid quickly absorbed into my skin as I massaged it in—warming it with my fingertips—and it left my complexion with a dewy, non-sticky finish.
I was pleasantly surprised by how hydrated, bouncy, and calm my skin was.
By the end of my first week using it, I was pleasantly surprised by how hydrated, bouncy, and calm my skin was. There was not a single whitehead in sight, which shocked me, as they often emerge when I try a product that touts "botanical extracts." Plus, it didn't pill when I applied makeup on top of it.
With all the buzz surrounding peptides, I was excited to see their skin-boosting effects in action for myself. The most telling part? StriVectin's yellow-capped serum has earned a permanent place on my vanity.
Source: Read Full Article