Brad Pitt Reportedly Dating Swedish Singer Lykke Li
The rumor, which is said to be originating from a Swedish podcast, arrives after the 'Moneyball' actor's ex-wife Angelina Jolie was spotted visiting her other ex Jonny Lee Miller's apartment.
AceShowbiz –Angelina Jolie may not be the only one who is finding love amid a long custody battle with Brad Pitt. Her ex-husband is rumored to be dating Lykke Li, a Swedish artist and model who is based in Los Angeles.
The rumor, which was picked up by gossip outlet DeuxMoi, reportedly originated from a Swedish podcast. A said tipster wrote in an email to the news blog, "Heard on a Swedish podcast that Brad Pitt is dating LA based Swedish singer Lykke Li."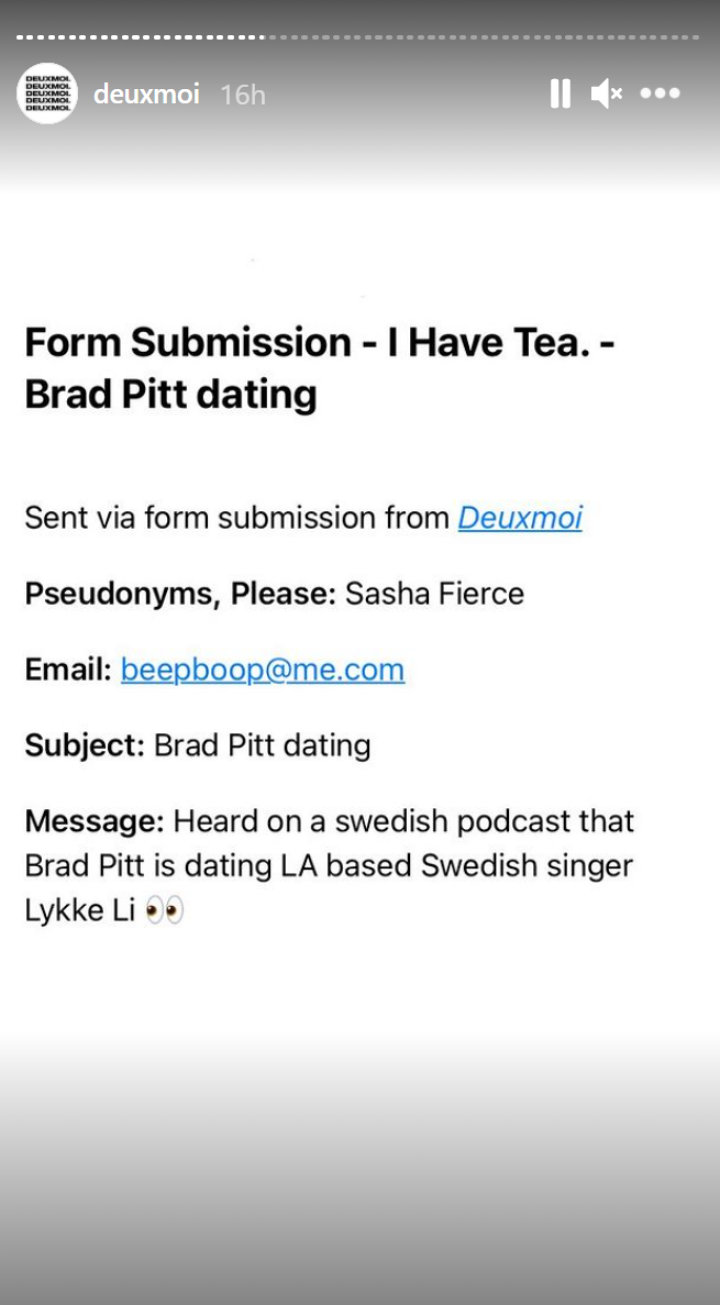 DeuxMoi reported Brad Pitt and Lykke Li dating rumors.
There isn't much known about the alleged romantic relationship between Brad and Lykke. The same site previously reported that "The Curious Case of Benjamin Button" star was supposedly hanging out on the set of Jennifer Aniston's Apple TV+ series "The Morning Show", fueling their reconciliation rumors, which turned out to be bogus.
Lykke is a singer/songwriter, who was born in Ystad, Skane County. The 35-year-old beauty is known for her music which often blends elements of indie pop, dream pop and electronic, and has released four albums, "Youth Novels" (2008), "Wounded Rhymes" (2011), "I Never Learn" (2014) and "So Sad So Sexy" (2018).
The dating rumor linking Brad to Lykke arrives just days after his ex-wife Angelina Jolie was spotted visiting her other ex-husband Jonny Lee Miller's apartment in Brooklyn, New York. She was first photographed at the "Elementary" alum's home on Friday, June 11.
The "Eternals" actress was later seen returning to 48-year-old actor's home on Tuesday, June 15. As captured in photos obtained by Daily Mail, she was joined by her 17-year-old son Pax this time.
For the outing, Angie looked effortlessly chic in a stylish long-sleeved black maxi dress which she teamed with nude Chanel mules. She carried a white jacket on her hand and a shoulder bag, while wearing a gray face mask.
Her second eldest child, Pax, meanwhile, opted for a casual look in a pink T-shirt teamed with a black-and-pink checkered shirt which was left unbuttoned, as well as charcoal jeans and trainers. He also wore a black hat and put on a face mask with abstract print.
Source: Read Full Article