Carole Baskin Is Threatening to Sue Joe Exotic Over "Casket Baskin" Underwear
It looks like Carole Baskin and Joe Exotic's completely deranged beef simply will not end—despite the fact that Joe and his mullet are currently in jail. Turns out Joe is selling a pair of limited edition "Casket Baskin Briefs" as part of his "REVENGE" fashion line with Odaingerous streetwear, and, presumably, as part of his commitment to trolling his arch tiger nemesis.
But according to TMZ, Carole's legal team has sent a cease and desist letter, and are threatening legal action if the underwear isn't pulled. She also claims that, per TMZ, "Joe and the brand have no right to make money off her name."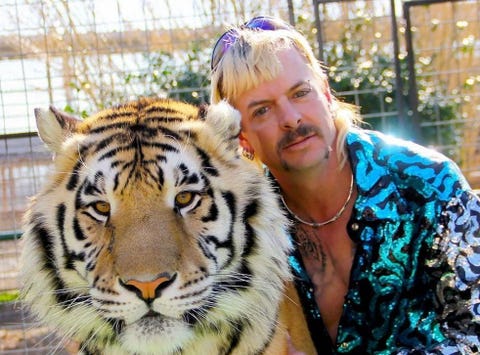 The outlet also repots that Joe's underwear is selling super well (the soft launch earned $20,000 in online sales), and the best seller happens to be the Casket Baskin briefs, which retail fo $29.00. So…yeah… unclear what's gonna happen here, but can't wait 'til Tiger King Season 2 to find out!
Source: Read Full Article