Erika Jayne Claps Back at Trolls Mocking Her Dishevelled Appearance at Gas Station Amid Divorce
Many social media users poke fun at 'The Real Housewives of Beverly Hills' star's worn-out look as she appears to have given up her $40k-a-month glam squad.
AceShowbiz –Erika Jayne is calling out her haters who judge her appearance. The reality TV star has been roasted online after she was spotted looking dishevelled at a gas station, prompting the blonde beauty to take to Twitter to hit back at the trolls.
Posting on her account on Monday, June 21, she sarcastically reminded other users to learn from her experience. "Goodnight Twitter, please be in full glam when pumping gas. Apparently it's a big deal," so she wrote.

Erika Jayne responded to trolls mocking her dishevelled appearance.
The 49-year-old followed it up with another tweet of a gif of herself from her Bravo TV show "The Real Housewives of Beverly Hills" that contained her own quote, "Go be offended at your own life."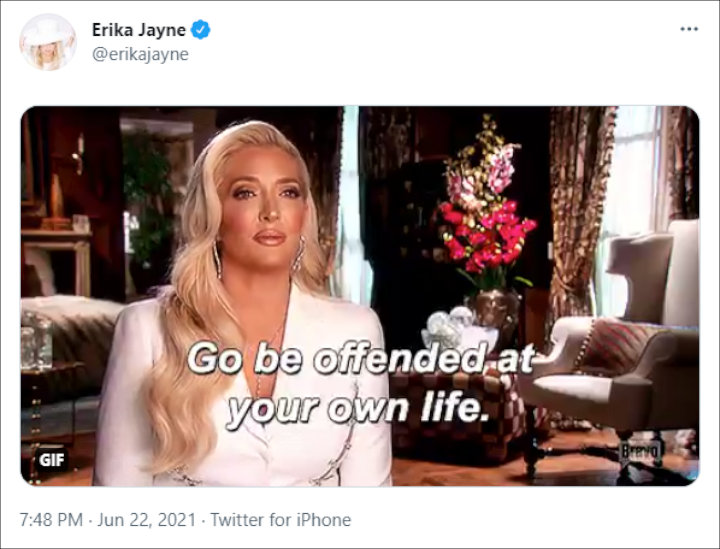 The 'RHOBH' star continued to clap back at the haters.
Erika's responses to the critics, however, only drew more backlash over her attitude amid embezzlement lawsuit against her and her estranged husband Tom Girardi. "The pumping gas isn't the big deal it's your inability to see getting on social media and saying things like this make you sound out of touch with reality," one person commented on her tweet.
Another compared her look in the recent candid photos to her glam-up look while posing in a kitchen in an old snap. "Forgot how casual you usually are!" the person sarcastically wrote. Someone else advised her, "If you want people to leave you alone the answer is simple. Sell off your luxury items and give the money back to the victims. I don't care if you knew or not- but those things weren't bought with you or your husband's money. You need to give them back. K?"
There were some who came to her defense though, with one saying, "S crew the haters! Stay strong lovely." Another stated, "I am disgusted at how your being treated. All these people are trying to crucify you before letting things play out. When did the court of public opinion become a court of law? Leave the woman alone people. Actually it makes me like you more seeing you in sweats. Stay Strong."
Erika was trolled online after she showed up uncharacteristically with no makeup and messy hair at a gas station on Sunday, June 20. She she wore a "Billionaire Boys Club" T-shirt and completed her laid-back look with a pair of skintight black leggings, white sneakers and a pair of cat-eye sunglasses.
According to a report, she was seen struggling to pump her own gas, until her assistant stepped up to lend a helping hand. Erika's shocking appearance prompted speculation that she may have ditched her $40k-a-month glam squad amid her divorce from Tom.
Source: Read Full Article