Jason Aldeans Wife Slams Kamala Harris Notion of Memorial Day as Long Weekend
Singer and 'American Idol' alum Brittany Kerr points out that her 'family doesn't take Memorial Day lightly' as she and the 'Dirt Road Anthem' hitmaker 'come from military families.'
AceShowbiz –Jason Aldean's wife Brittany Kerr has reacted to Kamala Harris' Memorial Day post. After the Vice President referred to the day honoring men and women who died while serving for the country as a "long weekend," the "American Idol" alum slammed her by insisting that her family "doesn't take Memorial Day lightly."
On Tuesday, June 1, the wife of the "Dirt Road Anthem" hitmaker posted a series of photos showing an American flag waving and some family time moments. "Our family doesn't take Memorial Day lightly [love]. It's more than a 'long weekend,' " the 32-year-old pointed out in her caption. She further explained, "@jasonaldean and I both come from military families and understand the importance our loved ones and others have sacrificed for us and our freedom. We fly our flag high… EVERY SINGLE DAY."
"It's the least we can do to show our appreciation," Brittany stressed. She then continued, "God bless the Mamas who couldn't hold their babies one more time. To the Daddies who weren't able to express just how proud they were. WE THINK AND PRAY FOR YOU, DAILY [love] 🇺🇸."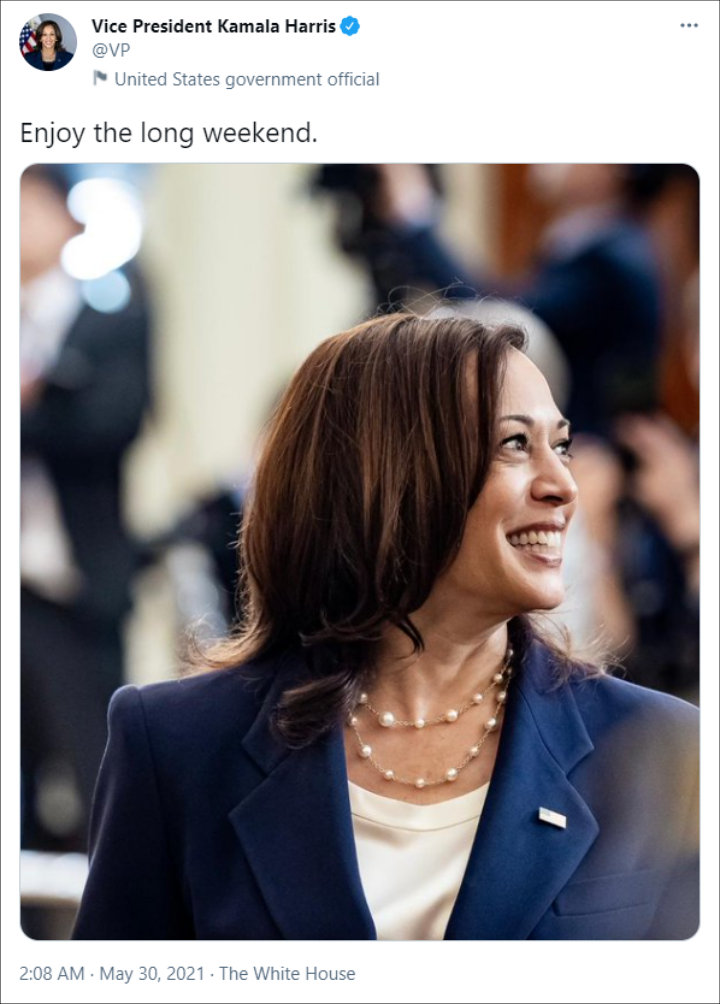 Kamala Harris referred to the Memorial Day as a 'long weekend.'
Brittany concluded her post by expressing her gratitude for those who serve the country, writing, "Thank you Military and everyone who continues to serve this beautiful country and risk their lives for us!!!! We love you!!" She also included a hashtag that read "#happymemorialday" in the caption.
Brittany's reaction came after Kamala took to her Twitter account to share a smiling picture of herself on Saturday. She accompanied the photo with a message to her followers to hopefully "enjoy the long weekend." The tweet was quickly met with criticism from Twitter users blasting her post as "tone deaf" and saying that she was "disrespectful."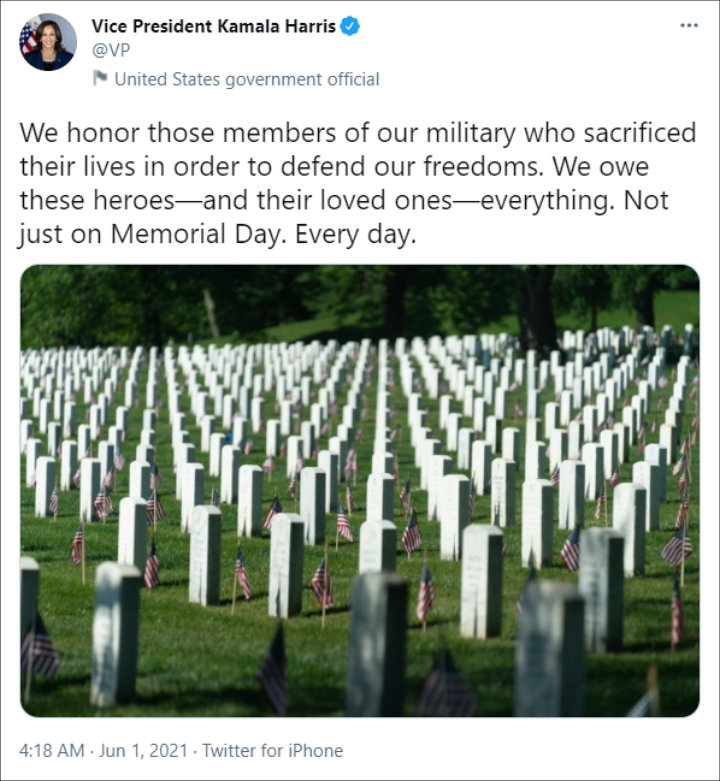 Kamala Harris shared a much more appropriate message to celebrate Memorial Day.
Following the backlash, Kamala shared a much more appropriate message commemorating those whose lives were lost to defend America and its freedom. A day after, the Vice President penned, "Throughout our history our service men and women have risked everything to defend our freedoms and our country. As we prepare to honor them on Memorial Day, we remember their service and their sacrifice."
Source: Read Full Article