Jed Wyatt Apparently Unfollowed Tyler Cameron After He Was Trolled on Twitter
The Bachelor: Listen to Your Heart premiered on April 13, and fans were quick to notice that contestant Trevor Holmes seems eerily similar to someone else from Bachelor Nation. Fans of the show weren't the only ones to notice, and Tyler Cameron spent the entire episode trolling Jed Wyatt on Twitter.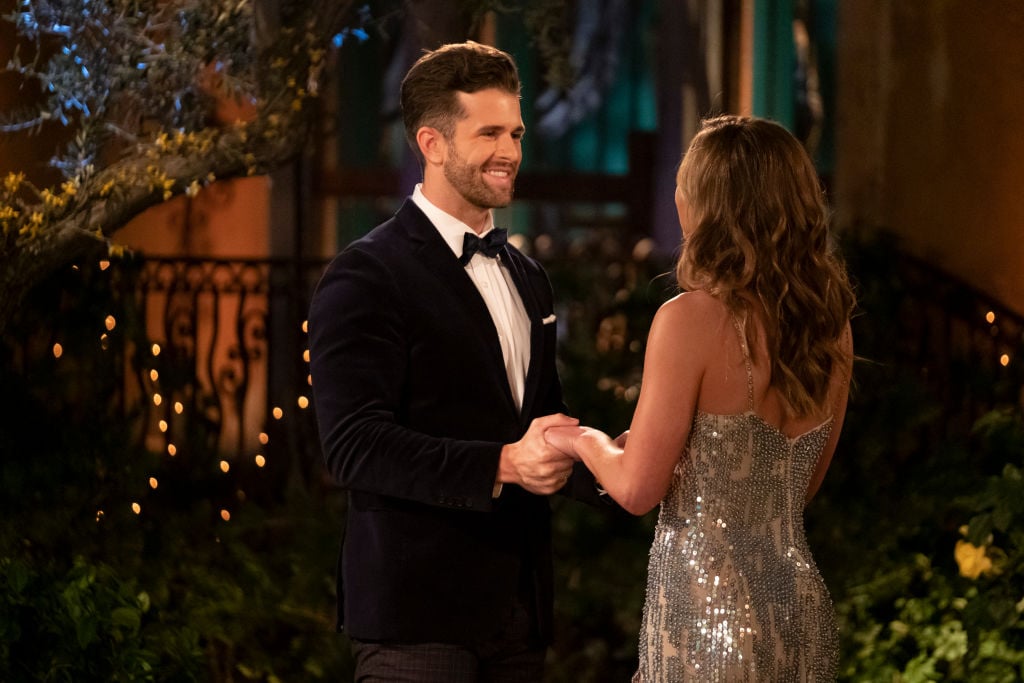 Tyler Cameron and Hannah Brown are friends
As fans of The Bachelorette are very aware of, Brown and Cameron are friends even after the show ended. The two exes are extremely supportive of each other, and Brown spent a few weeks in Florida quarantining with Cameron and his friends during the coronavirus (COVID-19) outbreak.
While their support of one another has led to dating rumors, Cameron has been adamant that the two are just friends. Recently, Cameron appeared in a Zoom call with fans and gave details about his relationship status with Brown. A fan on the call then recorded the conversation and posted it on TikTok.
When asked about Brown, Cameron said "The tea is we are friends. She's a good friend."
Tyler Cameron trolled Jed Wyatt on Twitter
During the premiere of The Bachelor: Listen to Your Heart, both Cameron and Brown took the time to troll Wyatt on Twitter.
Brown tweeted, "I'm triggered by this whole thing. @chrisbharrison #TheBachelorLTYH" with a gif of her breakup conversation with Wyatt on The Bachelorette.
Cameron tweeted about the show while simultaneously shading Wyatt multiple times.
"We've seen how this whole look turns out already…," he wrote in one of the tweets.
"They should give Jed producer credits because he is definitely the creative idea for this show," Cameron tweeted, alluding to the fact Wyatt went onto The Bachelorette to further his music career.
Another tweet of Cameron's read, "What we have learned these past few seasons is that a guitar can get you past anything… rock on Sheridan #LTYH."
Jed Wyatt responded to one of the tweets
While Cameron trolled Wyatt on Twitter, Wyatt actually responded to one of the tweets.
"Jamie obviously didn't watch the bachelorette and doesn't understand what comes with that jacket," Cameron tweeted.
Wyatt then responded with a nodding gif, and tweeted his own response about the show's similarities to his story line on The Bachelorette.
"Something about this new show feels familiar. Maybe it's Trevor's jacket, maybe it's all the guitars. Stay tuned," Wyatt wrote on Twitter.
While Cameron's tweets received thousands of likes on Twitter, Wyatt's tweet did not go over as well.
One fan even replied to Wyatt, "Maybe they're all secretly in relationships?"
Another fan tweeted at Wyatt, "Maybe it's all the deception and lies?"
Jed Wyatt apparently unfollowed Tyler Cameron
After Cameron spent the night trolling Wyatt on Twitter, Cosmopolitan reported that "according to fans, he proceeded to unfollow Tyler on Twitter."
Given the amount of tweets directed at Wyatt by Cameron and Brown during The Bachelor: Listen to Your Heart premiere, this wouldn't be surprising.
Source: Read Full Article