Meet Lopez vs Lopez Breakout & EnkyBoys TikTok Star Brice Gonzalez (Exclusive)
Brice Gonzalez is stealing EVERY single scene he's in in his new NBC comedy series Lopez vs Lopez!
The young actor stars as Chance, the son of Mayan Lopez's Mayan and Matt Shively's Quinten.
Lopez vs Lopez is a working class family comedy about dysfunction, reconnection and all the pain and joy in between.
While there are only a few episodes out so far, Brice has shown that he has the comedy chops to keep up with his adult co-stars. This show is a must watch!
Keep reading to learn more about Brice Gonzalez…
It was also just revealed on Friday (December 2) that the series has received an additional nine episodes, bringing it's season one order to 22 episodes. The comedy is the No 1 NBC comedy launch on Peacock an has "the strongest English-dominant Hispanic index among the major four broadcast networks."
Brice can also be seen in the upcoming movie Flamin' Hot, which is directed by Eva Longoria, as well as the BET series Real Husbands of Hollywood.
We recently caught up with Brice and got to know 10 Fun Facts about him.
See what he shared below…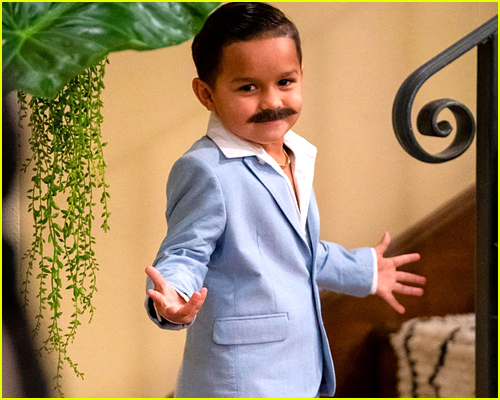 Brice Gonzalez – 10 Fun Facts
1. I am a naturally talented athlete.
2. My favorite subjects are math and science.
3. I have a photographic memory.
4. I am a TikTok sensation with my dad, known as the Enkyboys, with more than 15.5 million followers.
5. TikTok is where I first started acting and doing voice-overs with my dad, capturing the love of many at the age of 4.
6. I love spending time with my sisters by watching Sam & Cat.
7. Batman is my favorite super hero.
8. My favorite number is 8.
9. Favorite food is pizza.
10. The first movie I did was Flamin' Hot in 2021.
Be sure to tune in on Friday nights for new episodes of Lopez vs Lopez at 8pm ET/PT on NBC, with episodes dropping on Peacock the next day.
If you missed it, earlier this year, Brice and his dad shared a TikTok video explaining that he was staying with his grandparents in LA while working on the show.
Check out more photos of Brice Gonzalez in Lopez vs Lopez in the gallery…
Source: Read Full Article