Midnight Cowboy Producer Jerome Hellman Passed Away at 92
Days after Hellman's wife confirmed his death, The Academy offers its condolences in a social media tribute that looks back at his Oscar wins for 'Midnight Cowboy' and 'Coming Home'.
AceShowbiz -Jerome Hellman, the Oscar-winning producer of film classics like "Midnight Cowboy" and "Coming Home", has died, aged 92.
His widow, Elizabeth Empleton Hellman, has confirmed the mogul passed away on Wednesday, May 26. About his passing, his wife told Deadline, "We will miss him terribly."
His films helped define the "New Hollywood" of the 1970s, beginning with the controversial "Midnight Cowboy" in 1970.
Hellman teamed up with director John Schlesinger for the X-rated project, which dealt with homosexuality and prostitution. The film picked up multiple Oscars, including Best Picture and Best Director.
Back in 2005, Hellman recounted his Oscar wins in an interview with Los Angeles Times. "I was so sure we weren't going to win, I didn't even prepare a speech," he said. "I probably only said 10 words. It must've been the shortest speech in the history of the Oscars. I didn't thank [director] John [Schlesinger] or the actors or my mother or father."
Schlesinger and Hellman reteamed for 1975's "Day of the Locust".
Hellman also picked up another Best Picture Academy Award nod for "Coming Home", directed by Hal Ashby.
His other credits include "The Mosquito Coast", "The World of Henry Orient", and "A Fine Madness".
He also tried his hand at directing, making his debut with "Promises in the Dark" after he and filmmaker Schlesinger fell out, and Hellman tried acting too, playing opposite Peter Sellers in Hal Ashby's "Being There".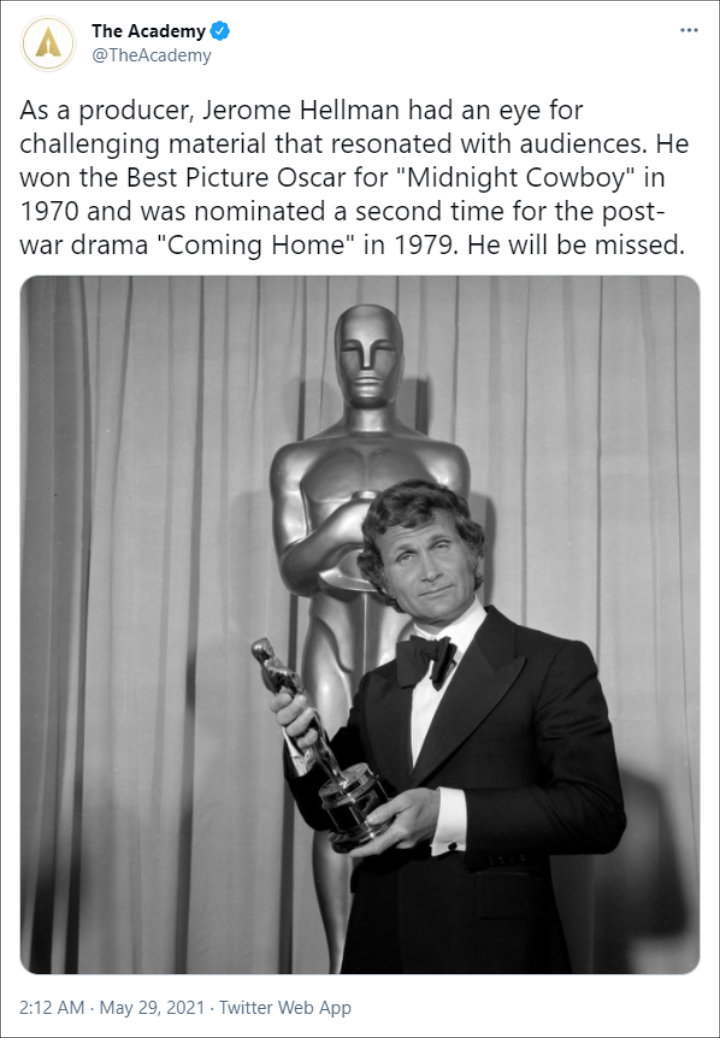 The Academy offered condolences for the passing of Jerome Hellman.
Upon learning about Hellman's passing, The Academy turned to Twitter to offer condolences. "As a producer, Jerome Hellman had an eye for challenging material that resonated with audiences. He won the Best Picture Oscar for 'Midnight Cowboy' in 1970 and was nominated a second time for the post-war drama 'Coming Home' in 1979," its tweet read. "He will be missed."
Source: Read Full Article