Selena Gomez Has Reportedly Been on a "Few Dates" With NBA Player Jimmy Butler
Selena Gomez has been a busy bee this year—not only did she release an album this year (Rare was/is/will continue to be a complete masterpiece, TYVM), but she also launched an entire beauty line and cooking show on HBO! But despite juggling multiple plates this year, Selena still is making the time to date and seems to be getting pretty close with Miami Heat basketball player, Jimmy Butler, these days.
According to E! News, Selena is "keeping her options open but has been on a few dates with Jimmy and thinks he's a great guy." Now before you get all excited and jump to dating conclusion, imma stop you right there. The source said that "they hung out a few times while Selena was in New York City. Jimmy asked her to go to dinner and they had a great time," but at the moment "it's very casual and she's open to seeing where things go, but isn't settling down just yet."
And just so we have a visual, here's what Jimmyboy looks like: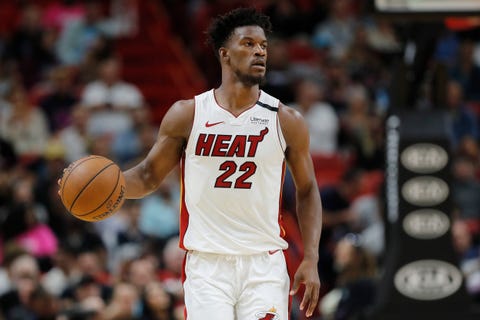 The source also clarified Selena's dating status—she's "currently single but has recently been more open to dating." For what it's worth though, "her friends want to set her up all the time but she has loved being single."
As much as Selena has enjoyed going on a few dates Jimmy, she does have to keep an eye on her health due to the pandemic and her compromised immune system (see: her kidney transplant and lupus diagnosis). "Selena has been very careful with her health this year and has barely left her quarantine bubble," the source shared, adding, "She's been extremely busy working from home on her new beauty line and is very proud to have launched that during a pandemic. She's been enjoying cooking at home and only seeing a select few friends and family members regularly."
Not sure what else will happen between Selena and Jimmy, but will def be keeping my eyes peeled like an orange for updates!
Source: Read Full Article