The Stunning Transformation Of Lisa Bonet
Lisa Bonet, known for her statement layering and impressive hats worn while playing Denise Huxtable on "The Cosby Show," has been stealing hearts since she was a teenager. She was born in San Francisco, California on November 16, 1987. Her career in acting began young, and soon her talent, her fashion, and her relationships were trending topics for magazines and outlets all over the country. Her dynamic abilities allowed her to transfer seamlessly between roles and genres as she came into her own in the entertainment industry during and after "The Cosby Show."
She continues to turn heads as an actor, a style icon, and a mother. Needless to say, she's come a long way in her impressive and transformative career. Let's take a look back at some of the moments that defined Lisa Bonet in both her personal and professional lives that brought the star to where she is today.
Lisa Bonet's rise to fame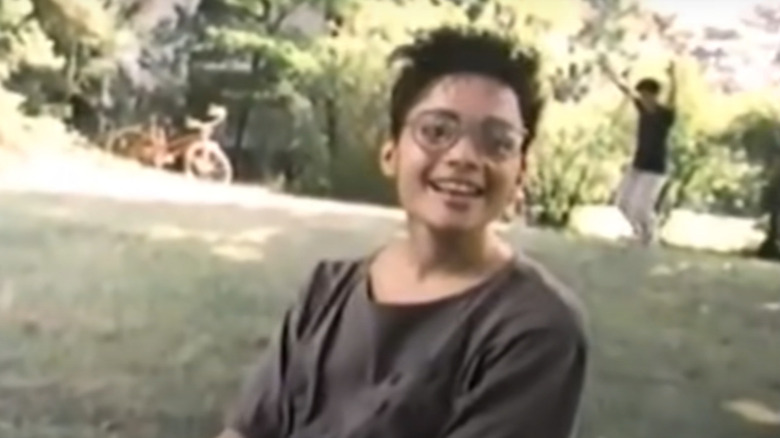 As a teenager, Lisa Bonet got her big break. She would play the rebellious daughter Denise Huxtable on "The Cosby Show." The show followed the lovable Huxtable family. Based on the stand-up of the now-problematic Bill Cosby, it centered around his ideas of everyday family life. For many, it was one of the first shows they saw that showed a Black family simply living life and dealing with realistic, impactful, and often hilarious problems.
Episode 1 premiered on September 20, 1984, just two months shy of Bonet's 17th birthday. Definitely her most memorable role, Denise Huxtable was remembered for years after the show's end in 1992 for her over-the-top and enviable fashion choices. Even articles published today credit her as a fashion icon and recall "Denise Huxtable's 15 Most Stylish Moments" or pit Denise's looks against mom Clair's in a "Huxtable Fashion-Off." Clearly, Bonet became a star.
This role also proved Bonet's loveable and charming persona worked well in a heartwarming family comedy and established her as a sweetheart of the entertainment world.
She educated teens in ABC Afterschool Special
Before Lisa Bonet was a household name, she was "Carrie" on one episode of "ABC Afterschool Special." As Mental Floss noted, the series aired dramatic yet realistic scenarios every other Wednesday at 4 p.m. from 1972 to 1996. Its hour-long episodes tackled topics facing young people in an interesting way. What originally began as purely educational content teaching topics about science and social studies flipped in Season 3 to cover scenarios that pre-teens may find themselves in. Teens could tune in with their parents (or be forced to watch the informative television show) to learn about the dangers of underage drinking, how to deal with divorce, or how to handle a move.
Bonet's episode tackled a particularly intense topic. The episode "Don't Touch" follows a teenage babysitter who learns the girl she watches is being molested by a friend of the family. This jogs the teen's memory, as she remembers that she faced similar abuse herself when she was younger. Bonet was just 18 years old when the episode aired, perhaps not launching her to immediate fame, but nonetheless making a start in an important and talked-about show that averaged millions of viewers.
Lisa Bonet starred in her first film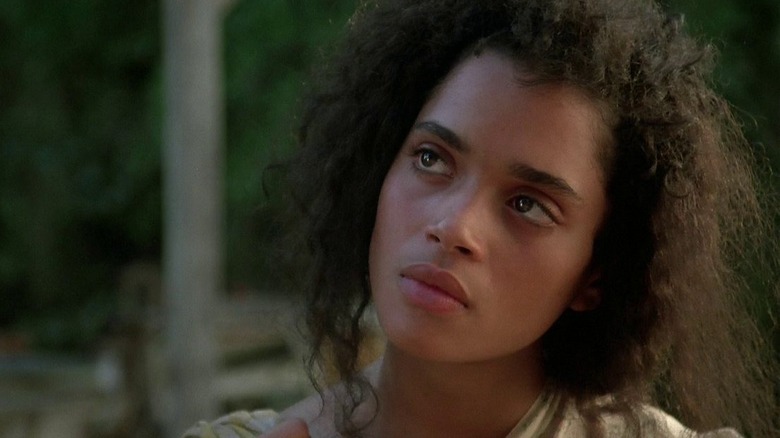 After playing Denise for three years, opportunity knocked for Lisa Bonet. She was offered a role in a feature film — her first feature film. Premiering in March 1987, "Angel Heart" followed a private investigator attempting to locate singer Johnny Favorite. Starring Robert De Niro and Mickey Rourke, the R-rated Alan Parker-directed thriller was a big step away from her wholesome, family-friendly persona on "The Cosby Show," and it established her career as a serious actress.
The film also served to distance herself from an "America's sweetheart" image, as Bonet appeared in a nude scene alongside Rourke. Bill Cosby was reportedly against this decision, as noted by Deadline, as he seemingly wanted to preserve the lovingly wholesome image he painted of her on his show. Bonet's "Angel Heart" role may have hinted at her desire to break away from the Huxtable household and achieve something greater in her career. Nonetheless, Bonet would continue to play Denise in "The Cosby Show" and the spin-off, "A Different World," before leaving that momentous and significant part of her career behind.
Lisa Bonet, cover girl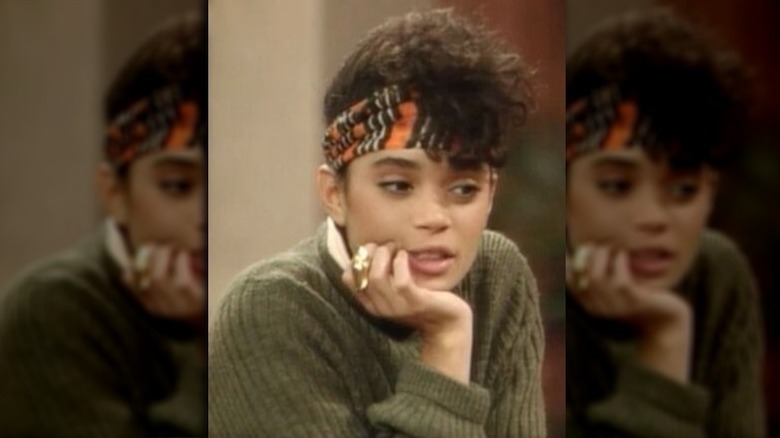 Lisa Bonet continued to prove that she had bigger plans than playing someone's daughter in April 1987, when she posed for the cover of the Andy Warhol-founded Interview magazine. Seeing America's favorite daughter splashed across a magazine that contained a topless photo of her would alter her perception in the public's eye. She seemingly matured with that photoshoot while still only being 19 years old.
If her role in "Angel Heart" did not prove her desire to enter a more mature phase of her career, this cover story definitely did. Her cover photo was a close-up of the teenager's face with streaks of purple and green under one eye. The photos inside were grungier, shot mainly in black and white with elements of red. This varied greatly from her colorfully quirky wardrobe on "The Cosby Show." Bonet proved that her time within Bill Cosby's idealized American TV family was coming to an end.
Lisa Bonet found love with Lenny Kravitz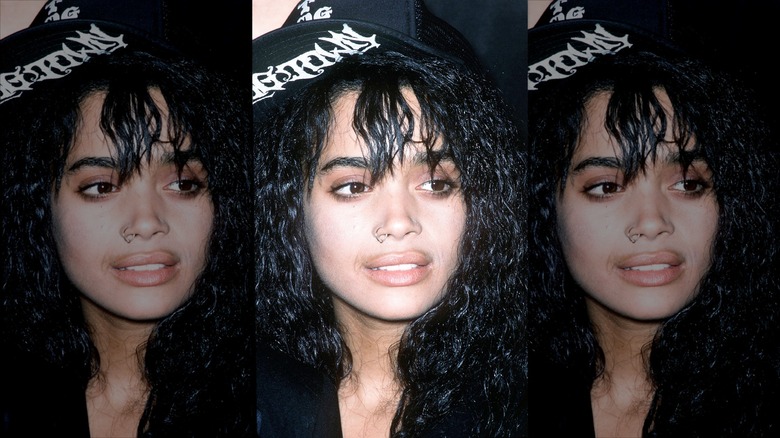 Lisa Bonet met rock star Lenny Kravitz at a New Edition concert in 1985, according to PopCulture. Kravitz soon moved to New York to live with Bonet. By 1987, two years later, they were married. The couple flew to Las Vegas and eloped, and their big day also marked Bonet's 20th birthday.
When he married Bonet, Kravitz was a no-name musician trying to get his big break. He was so unknown at the time that the press often referred to him as "Mr. Bonet." Kravitz spoke about his instant connection with Bonet in a 1995 interview with Rolling Stone, saying, "She was like a female version of me." He added, "That woman inspired me so much. It was a magical time that she and I shared. I just opened up artistically."
The entrance into one of Hollywood's most memorable and famous couples at the time drew Bonet even further from her life on "The Cosby Show." 
A different (yet similar) world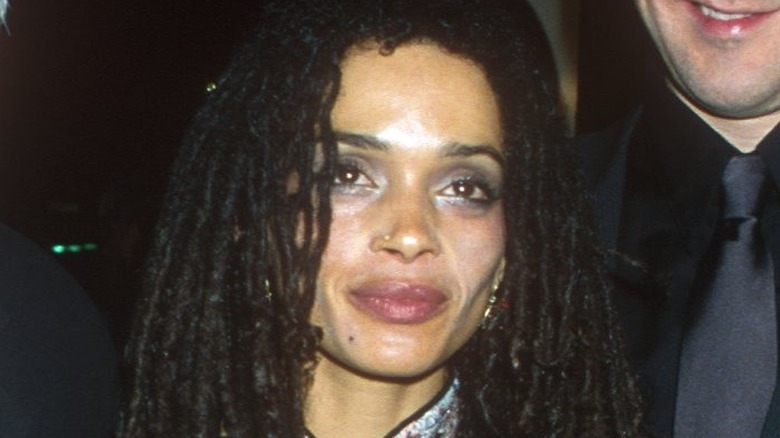 Still, Lisa Bonet could not escape Denise Huxtable just yet. Instead, she spent even more time playing the famous daughter when "A Different World," a spin-off of "The Cosby Show," aired just months after her Interview magazine shoot. "A Different World" followed Denise as she attended the fictional HBCU Hillman College.
Despite being the center of the spin-off, Bonet exited the show after just one season. "A Different World" would air for five more seasons without her. Still, she was able to make lasting friendships in the short time she worked on the show. Denise's roommate Maggie was played by Marisa Tomei, who would go on to be the godparent to all three of Bonet's children, according to PopSugar. Speaking of children, Bonet's exit came shortly after it was announced she was expecting a baby with new husband, Lenny Kravitz (via Page Six). 
Long after she exited the Bill Cosby bubble, Bonet spoke out about the allegations against her TV dad in 2018. When asked about the allegations in an interview with Net-a-Porter, Bonet said, "There was no knowledge on my part about his specific actions, but … There was just energy. And that type of sinister, shadow energy cannot be concealed."
She became a mother, but her marriage didn't last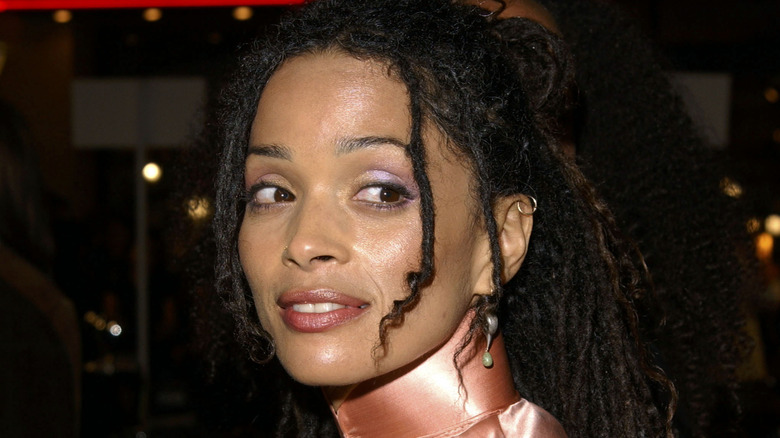 One year after the couple eloped, Lenny Kravitz and Lisa Bonet welcomed daughter Zoë Kravitz in December 1987. However, not even a child could save the young lovers' marriage. One of America's most interesting couples grew even more interesting when it ended so suddenly. The two separated in 1991 and were officially divorced in 1993 (via Distractify).
In an interview with Flatt (via Distractify), Lenny Kravitz gave some insight into the split. "I think I just wasn't ready," he shared. "I had to take a break. I went through a lot of emotional things, a lot of deaths in my family."
While the couple agreed they were too young and not ready for marriage, Kravitz revealed that the break-up still hit him hard. "I was in a tremendous amount of pain when we broke up, tremendous," he told Rolling Stone. "For, like, six months, I only slept for two hours a day, from 4 a.m. to 6 a.m. The rest of the time I was just up, like a zombie. I was floored." We imagine Bonet felt similarly.
Lisa Bonet moved away from Hollywood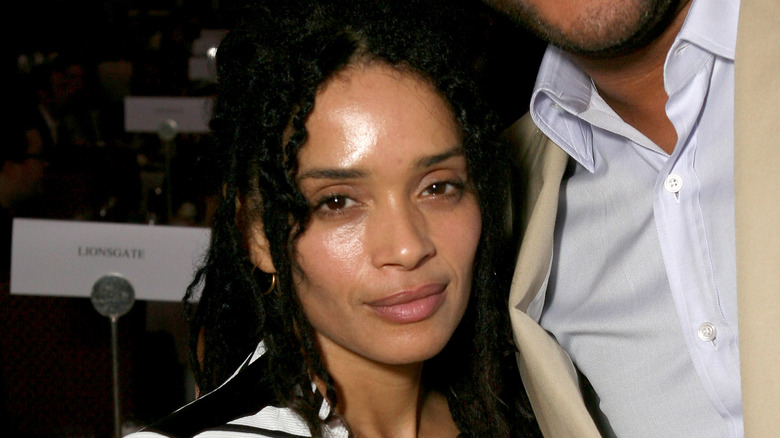 During the years following her break-up from Lenny Kravitz, Lisa Bonet spent her time raising her daughter and starring in feature films. As a young mother, Bonet wanted to raise her children away from the crowds and flashing lights. The two packed their bags and moved to the serene Topanga Canyon. Zoë spoke about this time in her life, describing it to Rolling Stone as a "hippie-ish enclave."
Zoë continued, "[My mom] always tells me I saved her life. She didn't intend on being famous, but then she became this sensation, and she was so young and really private. So moving away, being with her child — she really responds well to stillness and privacy."
Maybe that's just what Bonet needed to refocus on her career. She'd go on to star in films like "Bank Robber," "Dead Connection," "New Eden," and "Enemy of the State" alongside Will Smith. In 2000, she starred in the romantic comedy "High Fidelity" with John Cusack, which followed record store owner Rob as he reflects on romances past. Fun fact: Zoë would later star in a gender-swapped adaptation of the story for Hulu.
Lisa Bonet's new start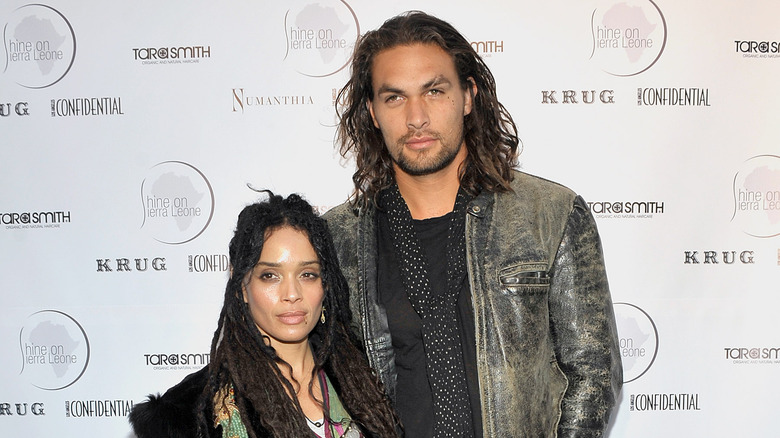 Ten years after her divorce from Lenny Kravitz, Lisa Bonet got a second chance at love when she met actor Jason Momoa at a jazz club. When he was younger, Momoa had been smitten with Denise Huxtable along with the rest of America watching Bonet on their screens every week. The "Game of Thrones" star told James Corden in 2017, "Ever since I was like 8 years old and I saw her on the TV, I was like, 'Mommy, I want that one.' I'm like, 'I'm going to stalk you for the rest of my life and I'm going to get you.'" And he did.
"I can't say it was full-on from the moment we saw each other, but we have been together from the day that we met," Bonet told Porter magazine in 2018. "In that moment, love came and it came big, and he did not run as I think a lot of men do. He basically picked me up and threw me over his shoulder, caveman style!"
Three years after they first met, Bonet and Momoa welcomed their first child together, Lola (via Us Weekly). Nakoa-Wolf came a year later. Now, Momoa, Bonet, and Kravitz are all part of a loving, blended family and have only good things to say about each other. Kravitz reflected on his big happy family, telling Oprah's Master Class, "When we're all together now — her man, her kids, Zoë, me — we're all together and we're one big, happy family."
Looking ahead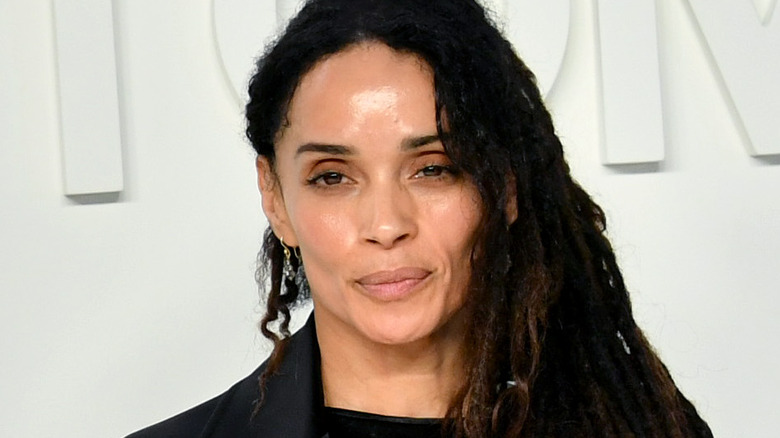 While Lisa Bonet has led an exciting, loving, and impressive life in and out of the limelight, she continues to keep a low profile. The actress spends her time raising her young children, hanging out with Zoë, and enjoying a long, happy marriage with Jason Momoa. And of course, Bonet, ever the fashion icon, continues to make headlines with her effortless style and beauty.
Fans can catch glimpses of Bonet in episodes of some of the most popular shows of the last decade. She's played Detective Maya Daniels in "Life on Mars," Sky Van Der Veen in "The Red Road" (which starred husband Momoa), Tandice Moncrief in "Girls," and Marisol Campos in "Ray Donovan." We can't help but hope that Bonet makes her return to the big screen sometime soon as America's sweetheart, a rebellious breakout star, or a loving mother. Whatever role she plays, she'll be great!
Source: Read Full Article