The Transformation Of Marla Maples
Marla Maples first ended up in tabloid headlines back in 1989 when she was first linked to Donald Trump, a courtship that thrust her into the limelight in a way she never expected when she was a young girl growing up in Cohutta, Georgia. The attention was overwhelming for the 26-year-old, with gossip reporter Liz Smith telling Vanity Fair in 1990, "In the annals of celebrity reporting there has never been a story like this." As her relationship with the person who would eventually become the 45th president continued, Smith said "events steamrolled out of everybody's control."
Things between Donald Trump and Marla Maples started explosively and the conclusion followed suit. And once things with Trump drew a close? She blazed an entirely different trail. Maples' marriage to "The Apprentice" host is but one part of her story, and suffice to say, her life has gone through a lot of transformations over the last few decades.
Beauty queen and sports star Marla Maples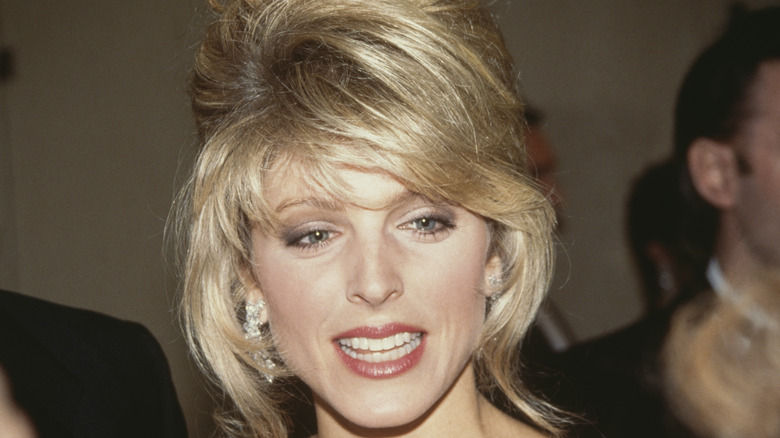 As Vanity Fair noted in a 1990 profile, Marla Maples was a true Southern belle who led a charmed life with her mom and dad, the latter of whom was a Baptist Church deacon and worked in real estate. Growing up, Maples excelled in both music and sports, and in high school, she was named homecoming queen. Things took a major turn when she started entering beauty pageants and was the runner-up in the 1984 Miss Georgia USA contest. Looking back on the swimsuit and evening gown footage from long ago, it was evident that a star was born even if she didn't win.
Maples had a taste for the spotlight and she knew that was where she belonged. As Vanity Fair noted, a Playboy scout offered her the opportunity to pose for a mother-daughter spread, but she turned it down because she had different goals in mind. "I knew that wasn't the way I wanted to be represented," she explained to the outlet. "I wanted to be respected, number one." That motto would follow her throughout her entire career — especially through her tumultuous time with Donald Trump.
Marla Maples hit the bright lights of New York City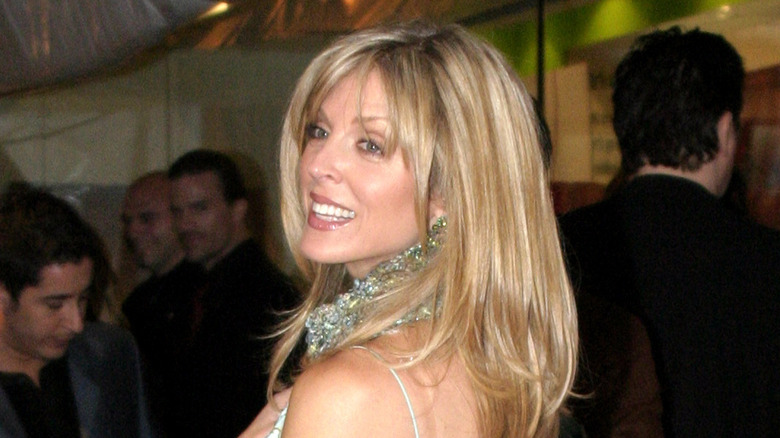 Marla Maples hit the Big Apple in 1985 and, as Vanity Fair wrote, "dreamed of the day she might land in a soap." The outlet noted that she immediately signed with agent/publicist Chuck Jones, who would act as a support system and help her adjust to her new universe. "Let me put it to you this way," he told the publication about her naivety about life in the big city. "She needed someone she could talk to, because if Marla meets some guy on the street who claims he's a producer, who's she gonna call? Not the ghostbusters!"
Others weren't so kind about her early years in New York City. One anonymous source said in the same profile that there was "nothing distinguishing about her except her genuineness" and saying that she was a "sweet girl," but the "antithesis of high-society, megabucks-type people." Besides Jones, her roommate and ex-cop Tom Fitzsimmons made sure to look out for Maples as she took acting classes and fell right into the aspiring actor's journey. A scene in Stephen King's 1986 sentient machine horror romp "Maximum Overdrive" and a small role on "Dallas" in 1989 didn't exactly set Hollywood on fire with her talent.
When Marla Maples met Donald Trump, everything changed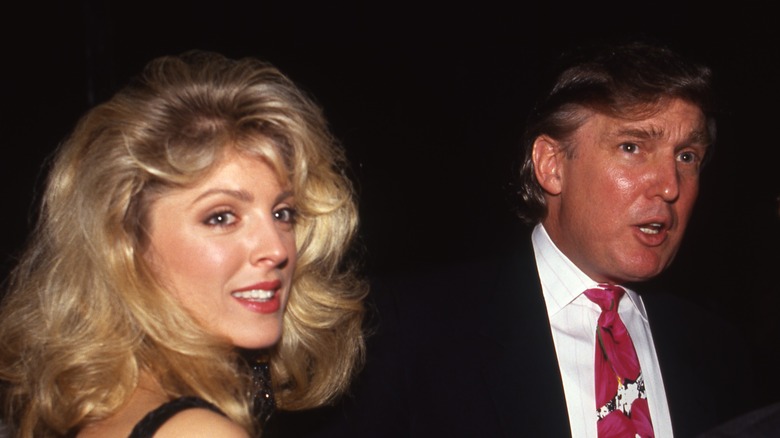 Marla Maples and Donald Trump's love story starts on Madison Avenue when "The Art of the Deal" author bumped into after he decided to walk down the block instead of his usual limo ride. "I had seen him at different places throughout the years," the then-aspiring actor told Vanity Fair, "and just said hello, I was just somebody he shook hands with." Basically, Maples had him at "hello."
What happens next has three sides to the story because there were three people involved in the love triangle. Maples claimed to Vanity Fair that they would meet up at Marble Collegiate Church on Fifth Avenue, swearing they stayed friends for a long time. However, Trump was parading her around his casino properties in Atlantic City, New Jersey before long. "Donald was not really very discreet about it," Roger Gros, the managing editor of Casino Journal, told the entertainment magazine. "He had her stay on the Trump Princess all summer except when Ivana came."
If you ask Ivana Trump who was to blame for the entire situation, it certainly wasn't her husband. "I'm not going to talk about the showgirl. I just think she's a showgirl," she explained to Fox & Friends in 2017. "She ruined my marriage and she doesn't deserve [for me to accept] her apology."
Dating Donald Trump gave Marla Maples major opportunities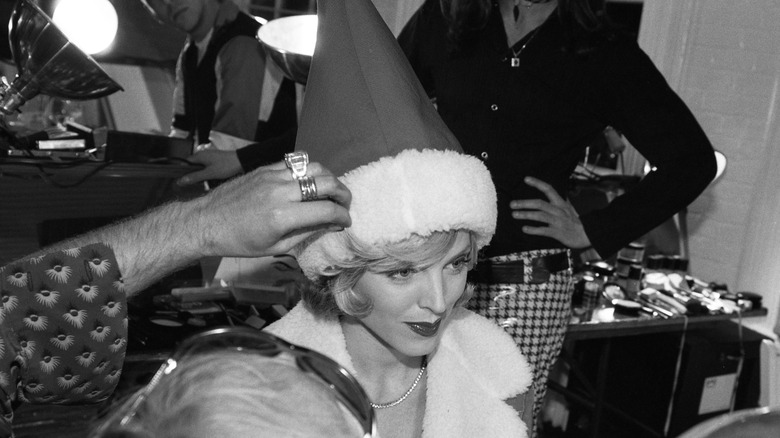 By 1991, with Donald Trump firmly on her arm, Marla Maples went from a struggling actor to starring on Broadway in "The Will Rogers Follies" as Ziegfield's Favorite. Before she even went on the stage, Trump was already singing her praises to The Washington Post. "I think she's going to be great," he said. "It takes a lot of guts too, but I think she's going to be great." The newspaper also described her first entrance as a "scantily dressed" moment, so they obviously weren't critiquing her singing and dancing talents that night.
Maples fared better when she co-hosted the Miss USA and Miss Universe pageants with actor George Hamilton during the days her then-husband owned the shows. It was a natural fit going back to her pageant days and she was able to showcase her sweet Southern personality even if her connection to the guy in charge helped get her the gig. While she was with Trump those major jobs came her way easily because he either had a hand in producing them or he was able to leverage the publicity the two generated any time they appeared in public. It worked well for them both… for a while.
In 1993, Marla Maples became a mother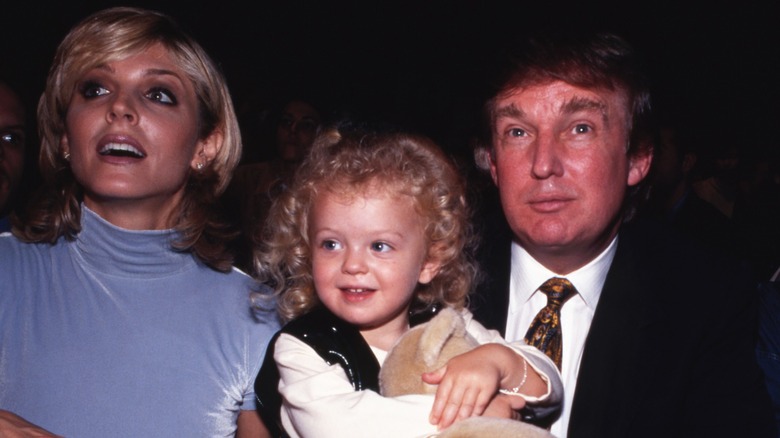 In 1993, a major life milestone shifted every priority in Marla Maples' life: motherhood. Of course, her boyfriend (they weren't married yet) had something to say about the big day. "This is the most amazing experience I've ever had," Donald Trump told the Daily News. "Marla looks absolutely beautiful and the baby is gorgeous." That baby was Tiffany Trump, who came into the world on Oct. 13, 1993. The newspaper pointed out that she had "many of her father's features" and had "inherited the famous Trump lips."
As the outlet noted, Donald Trump made it just in time for the delivery via a chartered flight from New York to the birth in West Palm Beach, Florida. Hints of Maples' future interest in wellness also appeared in the private birthing suite, which included reflexology to help with labor pains, a breathing coach, and the proud father cutting the umbilical cord, according to the reporter. Of course, given that it was a Trump child, mother and baby had the best of the best for her big debut.
For Maples, it was love at first sight. She was in awe of her baby in the first six hours as the Daily News reporter witnessed every intimate moment of a mother and newborn. "Look how she lifts up her head up on her own," Maples exclaimed. "Isn't she the most beautiful baby you've ever seen?"
Becoming Mrs. Trump was the beginning of the end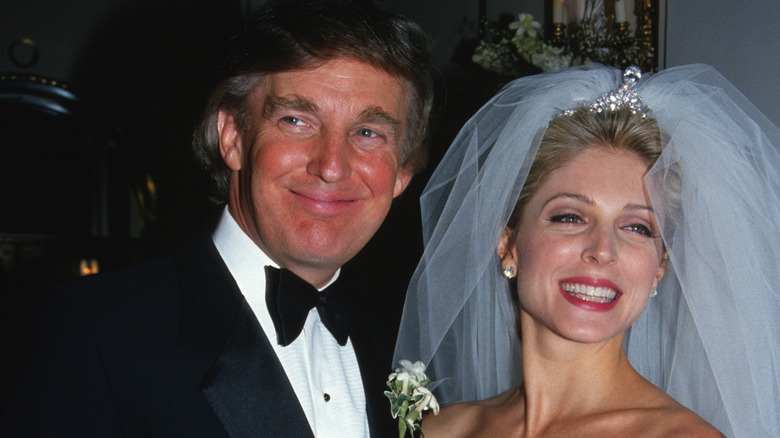 Just two months after daughter Tiffany Trump was born, Marla Maples finally got Donald Trump to walk down the aisle and make her his second wife. This wedding didn't happen easily because of one sticking point: the prenuptial agreement. "We basically came to an agreement that for the first few years we would agree on something and then tear it up," Maples told Vanity Fair. That document would never be ripped up and the original ironclad arrangement was what stood throughout their marriage. "Marla was under duress," a source claimed to the same publication. "Donald's position was: without the prenup he wasn't going to get married." 
The 1993 wedding at the Plaza Hotel in New York City went off without a hitch. As The Knot recounted, Maples donned a Carolina Herrera dress, a tiara that apparently  cost a cool $2 million, and a seven-tier cake. And as for the guest list? Well, as The New York Times reported, the roster of people included future Trump enemy Rosie O'Donnell. Un-Koosh-Ball-lievable, no?
The rosy glow of her wedding didn't last long, though, and as Vanity Fair noted, that prenuptial agreement, worth only $1 million to Maples, was going to get some use some years later.
A tabloid story tanked Donald Trump and Marla Maples' marriage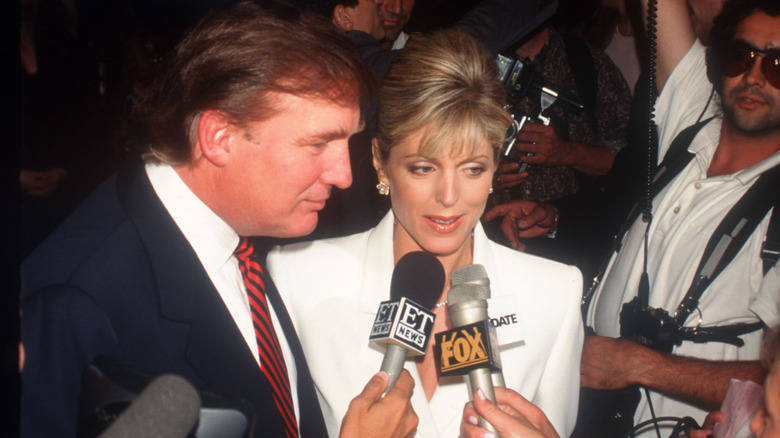 Marla Maples and Donald Trump started their relationship in the tabloids and that's exactly where it would end, too. At 4 a.m. on April 16, 1996, Maples was caught by Palm Beach police "underneath a lifeguard stand in the company of another man," according to Inside Edition. The man in question was bodyguard Spencer Wagner. She blamed her unusual middle-of-the-night beach spot on needing a "bathroom break." That excuse didn't fly with anyone, including Trump.
It was Wagner's ex-wife, Mary Miller, who spilled the beans about the alleged relationship to Inside Edition. "He said she would try to pull him into a bedroom in the house and she was aggressive," she claimed. "She just loved to party a lot. She liked to go down to Miami and party when she was in town." Maples and the bodyguard denied the affair, but after Wagner got the ol' "You're fired," he changed his tune about their friendship. "Our passion boiled over and we made love," he told The National Enquirer (via "Inside Edition").
As Vanity Fair noted, Maples hoped to rework their prenuptial agreement while she was still with Trump, but that never came to be. They separated in 1997 and the divorce was finalized on June 8, 1999.
Marla Maples moved on from her marriage to Donald Trump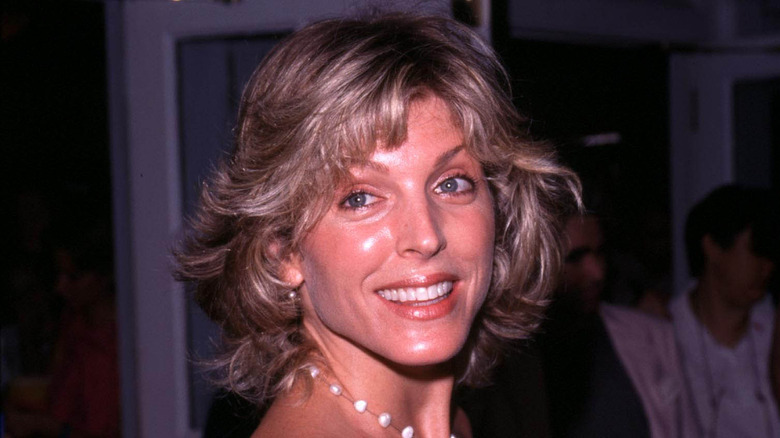 Howard Stern forecasted the demise of Marla Maples and Donald Trump's marriage to The New York Times at the couple's wedding in 1993. "'It's probably in bad taste, but I give it four months," he quipped. Well, he was wrong about the length of the marriage, but correct about its eventual demise. The radio personality wasn't the only one who felt this way; another source chimed in that the businessman was "forced economically to act" and end their marriage.
"It would be a huge mistake to do otherwise," the insider told the Times. "Unless you're married to someone you have 1,000 percent surety in, you just can't do that." How romantic for everyone involved. After the divorce, Maples lived in Trump Tower temporarily and eventually decided that she needed a new place to live where the Trump name wasn't on every building. Maples packed her bags with young daughter Tiffany Trump in tow and didn't look back on her marriage to the real estate tycoon. With Donald remaining on the East Coast, his youngest daughter was raised away from her half-siblings, Donald Jr., Ivanka and Eric Trump. It wouldn't be until she moved back East for college that she would grow closer to her older brothers and sister.
Marla Maples raised her daughter far away from NYC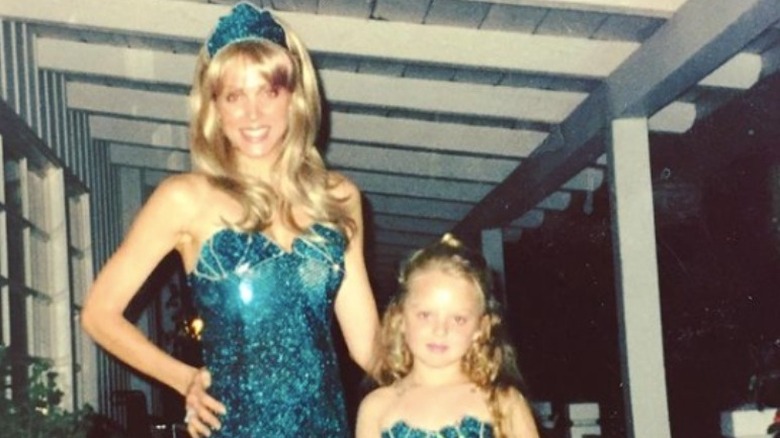 Marla Maples took on the full-time role of mom and dad out on the West Coast, and Tiffany Trump's childhood was relatively normal because she was raised outside the New York City Trump tabloid bubble. "Growing up in California, we were always together, driving me to school, carpooling, singing songs, dancing around, me making fun of her dance moves," the youngest Trump daughter told People in 2016. She shared that when they lived in Calabasas, they even counted the Kardashians as friends and neighbors. Trump even got chummy with Kendall Jenner, thanks to her mom's friendship with Kris Jenner.
As a protective mother, Maples made sure to not let the Trump name loom over her daughter's childhood. "She moved us out of New York to get out of the spotlight and let me grow up and find my own identity versus being in the shadow of a name or growing up very young with all that pressure," she shared with the magazine. "So, she wanted me to have a chance to have a normal childhood. As normal as possible. I think that she did well in that."
Yet Trump still had good things to say about her dad calling him "the most funniest, loving father," who gave simple advice like "Do good in school, Tiff."
New age wellness is a big part of Marla Maples' life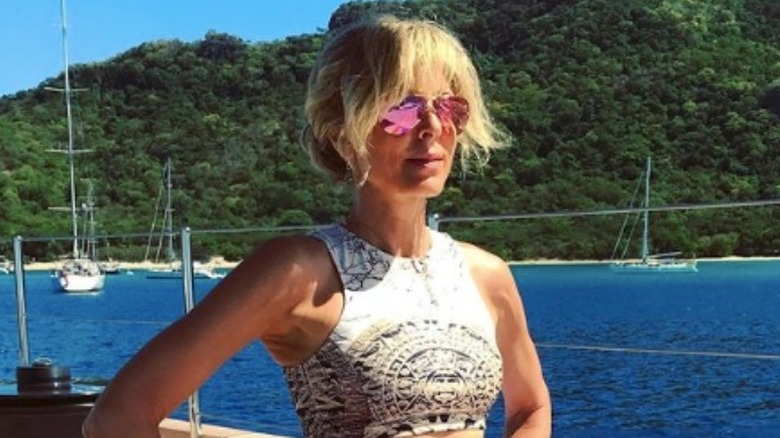 Marla Maples always wanted to be an actor, but she found a deeper meaning in life after becoming a mother. While living in California, she learned more about new age philosophies and wellness and became "a passionate advocate for mental, spiritual and physical wellness and chooses to offer inspiration and guidance to those who are seeking more joy and harmony in their lives," per her website. This journey was likely led by "the ups and downs of public life" when she was dating, married to, and then divorced from Donald Trump.
This spiritual path probably came in handy when her life turned upside down one more time when her ex-husband decided to run for president in 2016. Maples had to jump back into the spotlight to diplomatically talk about Trump and her thoughts on the relationship she had put behind her so long ago. "Well, he and I… were so different, as you could probably imagine," she told Access Hollywood. "He came with his positive ability to see the world, make money, get out there. I think you always hope in a marriage that you can bring the best out in each other. But after many years, we realized we weren't. And then, you have to move on."
Marla Maples hasn't stayed too far from the Trump family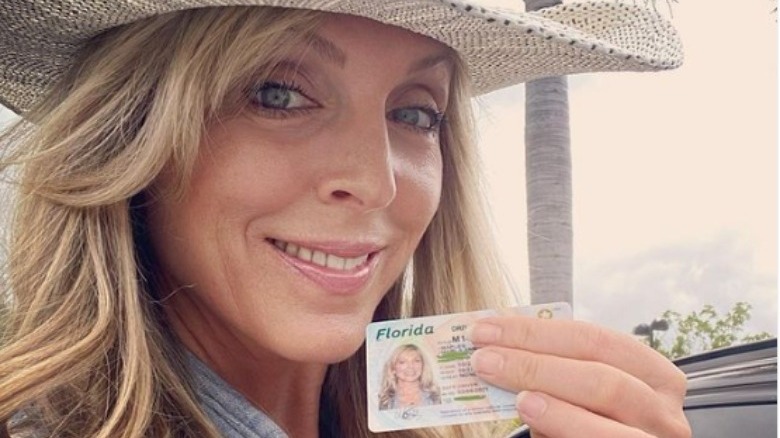 Marla Maples has been relatively close to the Trump family over the years, geographically speaking. As the New York Post reported, she made her way back to New York City when her daughter went to undergrad at the University of Pennsylvania and then moved on to Georgetown University Law Center while Donald Trump was in office. And so, she ended up in close — but not too close — proximity to her ex as Tiffany Trump pursued her degrees. 
After the Trump family headed to Florida in January 2021, Maples also went to the Sunshine State. While she isn't in the Mar-a-Lago crowd like her daughter, she still packed up her New York City apartment because, as she shared on her Instagram account in April, "change is really good for the soul, for the heart, letting go of what you need to release, starting anew."
She seems happy to be a Florida resident with the year-round sunshine and a fresh part of her life to explore. "Transitioning to a new life adventure with so much joy and gratitude," she wrote to her social media followers while donning a cowboy hat. "Officially a Florida Resident, though I look like I might've chosen Texas or Nashville instead, both were in the running."
Marla Maples is ready to be the mother of the bride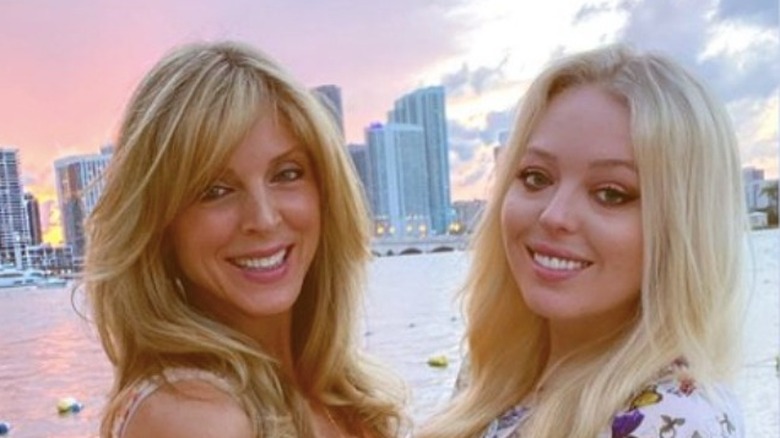 Another exciting chapter in Marla Maples' transformation story? Her role as mother of the bride. Tiffany Trump got engaged to Michael Boulos at the White House on the last day Donald Trump was in office in 2021. "It has been an honor to celebrate many milestones, historic occasions and create memories with my family here at the White House, none more special than my engagement to my amazing fiancé Michael," Tiffany captioned the Instagram photo. "Feeling blessed and excited for the next chapter!" At the time of writing, the wedding date has yet to be announced. 
And as for how the future mother-in-law feels about Tiffany's next chapter? By all accounts she's thrilled, telling Town & Country that she "adore[s]" her daughter's fiancé. For Maples, it's been a long journey from beauty queen to an aspiring actor, Donald Trump's second wife back to the sweet Southern belle, with a little new-age edge, known as Marla Maples.
Source: Read Full Article