The Truth About The Plea Deal And Sentencing Of Mama Junes Boyfriend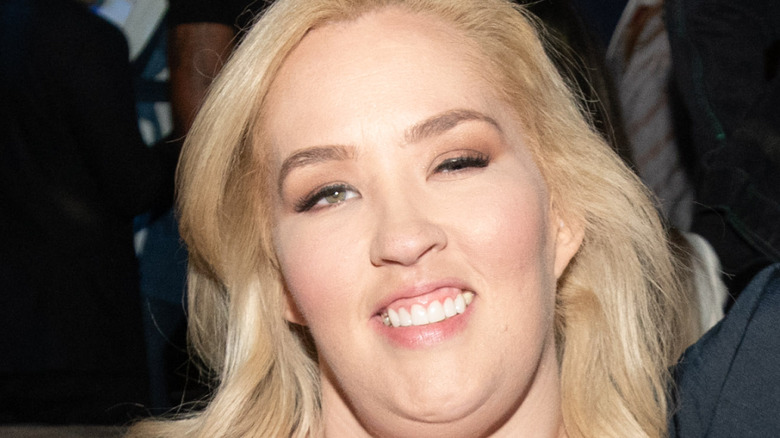 As reality stars go, Mama June Shannon is one of the most memorable — and her life has been one of the most drama-filled. She first became famous as the sassy mother of an even sassier child beauty pageant star on "Here Comes Honey Boo Boo," then appeared on "Mama June: From Not to Hot" where she lost weight with the help of a trainer and underwent plastic surgery (via IMDb). In a tragic downturn, Mama June and her boyfriend, Geno Doak, developed a crack cocaine addiction that cost her most of her reality show earnings — and caused a huge rift between her and her four daughters. Mama June's sobriety journey and her efforts to reconnect with her family were chronicled in a new series, "Mama June: Road to Redemption."
But while Mama June seems to be back on the right road, Doak is still paying for past sins. Back in 2019, he and Mama June were arrested at an Alabama gas station and charged with felony drug possession (a lesser charge of paraphernalia possession was later dropped). As fans saw on "Road to Redemption," the TV mom pled guilty in June and was sentenced to 100 hours of community service. She was also ordered to attend counseling, submit to random drug searches, and stay clean – she can't even visit restaurants that serve liquor (via The Sun). Mama June was grateful that her "positivity" and newfound sobriety saved her from jail time.
Her boyfriend, unfortunately, can't say as much.
Geno Doak is an "inmate" but not behind bars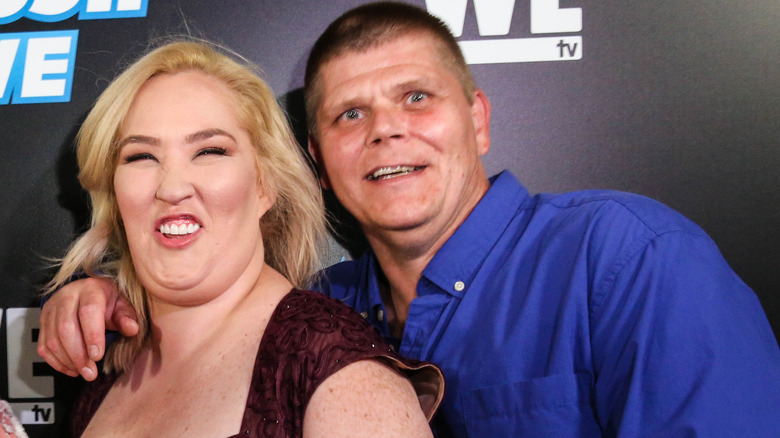 As The Sun also noted, Geno Doak had prior charges against him at the time of his arrest — including domestic abuse — so his case took longer to come to court. In August, Doak finally learned his fate. Per TMZ, he entered a plea deal that resulted in a rather unusual outcome. The Alabama court sentenced him to 16 months in the Macon Community Corrections facility. But though he's officially an inmate, "he won't be physically behind bars" during this time. Rather, he'll be closely monitored while there and subject to a number of restrictions. Any violations will result in imprisonment. Doak will also be required to attend substance abuse treatment. After serving his sentence, Doak will be under a two-year probation period before he can consider himself a free man.
Mama June hasn't commented on her boyfriend's sentencing as of this writing. Whether this is her own choice or influenced by her family is unclear. Her daughters have no real love for Doak, particularly middle child Lauryn "Pumpkin" Shannon Efird, who took on the care of younger sister Alana "Honey Boo Boo" Thompson while her mother and Doak were spending nearly $1 million on drugs. On "Road to Redemption," she confronted an apologetic Doak about the damage he did to their family.
In the meantime, Mama June is continuing to salvage her rep with both her daughters and her fans. On Instagram, she offers her services on Cameo and promotes a weight-loss drink. She was also invited to Lauryn's baby shower shortly before the birth of her grandson, Bentley Jameson (via In Touch Weekly). 
If you, or anyone you know, is struggling with addiction issues, help is available. Visit the Substance Abuse and Mental Health Services Administration (SAMHSA) website or contact SAMHSA's National Helpline at 1-800-662-HELP (4357).
Source: Read Full Article