Braun x Virgil Abloh 'Functional Art' Hi-Fi Unit Debuts at Brooklyn's "Figures of Speech" Retrospective
Commemorating 100 years of "good design" in 2021, German appliances brand Braun partnered with Virgil Abloh to reimagine its iconic Wandanlage hi-fi audio unit in an alternative, 'Functional Art' perspective. The piece is set to make its debut public appearance in the Brooklyn Museum for the designer's "Figures of Speech" retrospective.
Originally designed by Dieter Rams, the award-winning Wandanlage is widely recognized as the original hi-fi wall unit. Nearly six decades after its initial release, it is still celebrated by many as a "one of a kind" audio device. In the reimagined iteration, Braun and Abloh kept its ergonomic attributes at the forefront of the design, honoring its enduring functionality. Speaking on the collaborative 'functional art' piece, Braun's communications director of design and tech communications Benjamin Wilson explains, "Virgil picked Braun's 1965 Wandanlage because it has withstood the test of time through its cultural impact and articulation of Braun's design philosophy."
Consisting of modular components: a control unit (TS 45), tape recorder (TG 60) and two loudspeakers (L 450), Wilson notes that "The technology of the wall unit – and most notably the acoustic playback – functions as well today as it did in 1965." He adds, "This appealed to Abloh's engineering and music backgrounds."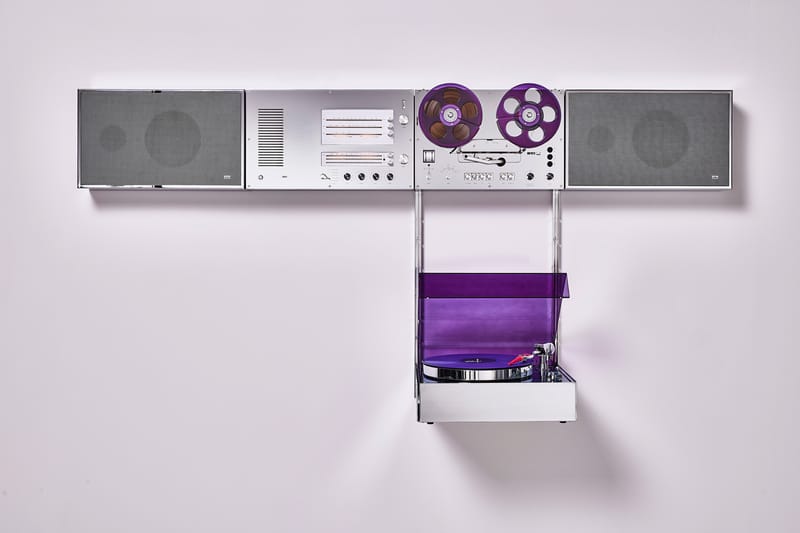 Braun
As well as being known to most as fashion's disruptor, Virgil Abloh devoted his life's work primarily to demystifying design in countless fields. "As an architect and a trained civil engineer, [Virgil] had a deep understanding of materials and processes, this greatly influenced how the collaboration and resulting 'Functional Art' piece evolved," says Wilson. On the Wandanlage, Abloh played with an updated metallic and chrome finish which he references in the feature video as having a "long history within the Black canon of aesthetics."
The 2021 co-creation simultaneously celebrates Braun's Useful, Simple and Built-to-last "haltung" (or, attitude in English) with Abloh's inspiring legacy. During Virgil Abloh: "Figures of Speech" in Brooklyn, the functional art piece will be automated to play a selection of timeless tracks including Abloh's special remix in collaboration with Houston sound designers, The Chopstars.
With Braun being a supporting sponsor of the exhibition, Wilson proudly shares the "functional art" piece with the public for the very first time. Speaking of the exhibition he says, "It is a must-see for everyone, not just design enthusiasts and an opportunity for people to see how Virgil Abloh reshaped fashion, art, design, and music in contemporary culture."
For more information on the 'functional art' collaboration, head to Braun's website. Tickets to Virgil Abloh: "Figures of Speech" exhibition are available to purchase on Brooklyn Museum's website.
Source: Read Full Article