The Real Reason Jennifer Lopez And Diddy Were Arrested
Jennifer Lopez is making news right now due to her breakup from her former fiancé Alex Rodriguez and the reemergence of Bennifer, aka Lopez and Ben Affleck. The former couple is very much on again and packing on the PDAs in Malibu and Montana, per Page Six. (Speaking of Rodriguez, he's seemingly playing some mind games with Lopez and Affleck. He rented a house in the Hamptons near Lopez and was seen out partying with Affleck's ex, Lindsay Shookus, per Page Six.)
No matter what Rodriguez is up to, though, Lopez is living her best life. She's reportedly spending most of her time in Los Angeles to be closer to Affleck. E! News reported that Lopez and Affleck "are inseparable and it's going really well." The source went on to say that Lopez "has never been happier and knows it was meant to be." Affleck reportedly has won over Lopez's twins Max and Emme, too. But long before there was Rodriguez or Affleck (or Cris Judd, or Marc Anthony or Casper Smart), there was Diddy, aka Puff Daddy, as he was known back then. Lopez and Sean Combs dated from 1999 to early 2001 just as her career was exploding.
But what happened between these two that got both Lopez and Diddy arrested? Keep scrolling to learn more.
There was an incident with a gun in a nightclub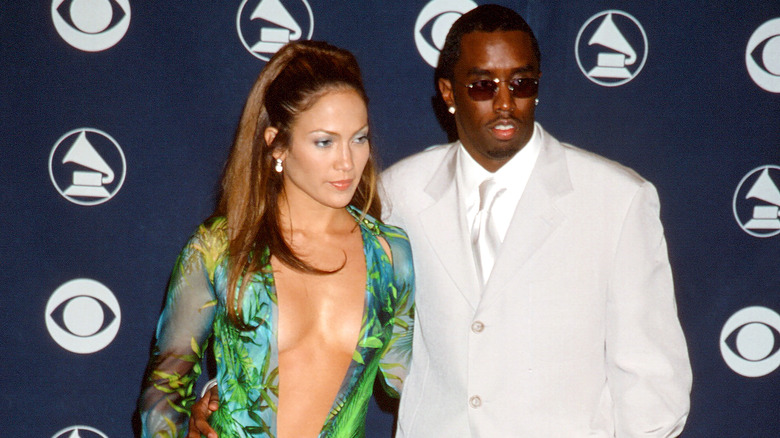 Diddy (aka Sean Combs) and Jennifer Lopez met on the set of the music video for "If You Had My Love" off Lopez's debut album in September 1999, per Newsweek. They were one of the hottest couples around at that time. Then, in December 1999, they were fleeing a nightclub in New York City where a triple shooting had just taken place. The couple's Lincoln Navigator ran a red light and they were pulled over. A stolen gun was found in the car, per Paper.
Lopez spent 14 hours handcuffed to a bench at the police station before the charges against her were dismissed, per Paper. However, Diddy was charged with battery and gun possession and went on trial. He was eventually acquitted of all charges in January 2001, per ABC News.
The whole incident put a big strain on their relationship, but Lopez stood by Diddy while he was on trial. They even attended the 2000 Grammy Awards together after the incident. (That was the night she wore the infamous green Versace dress with the plunging neckline down to her navel.) About a month after Diddy was acquitted, however, the couple split up, per Newsweek.
Source: Read Full Article