'Happy Days': Ron Howard Learned From Andy Griffith's Example During This Difficult Time on the ABC Sitcom
The comedy series Happy Days was for its star Ron Howard both truly a happy time and a testing period.
He learned that he could headline a major comedy series even though he was still seen by some as Opie from The Andy Griffith Show.
What he probably hadn't counted on experiencing, however, was something Griffith also went through during their years together on the 1960s family comedy.
From his former on-screen father's example, Howard drew both the wisdom and level-headedness to carry on for the sake of the Happy Days cast.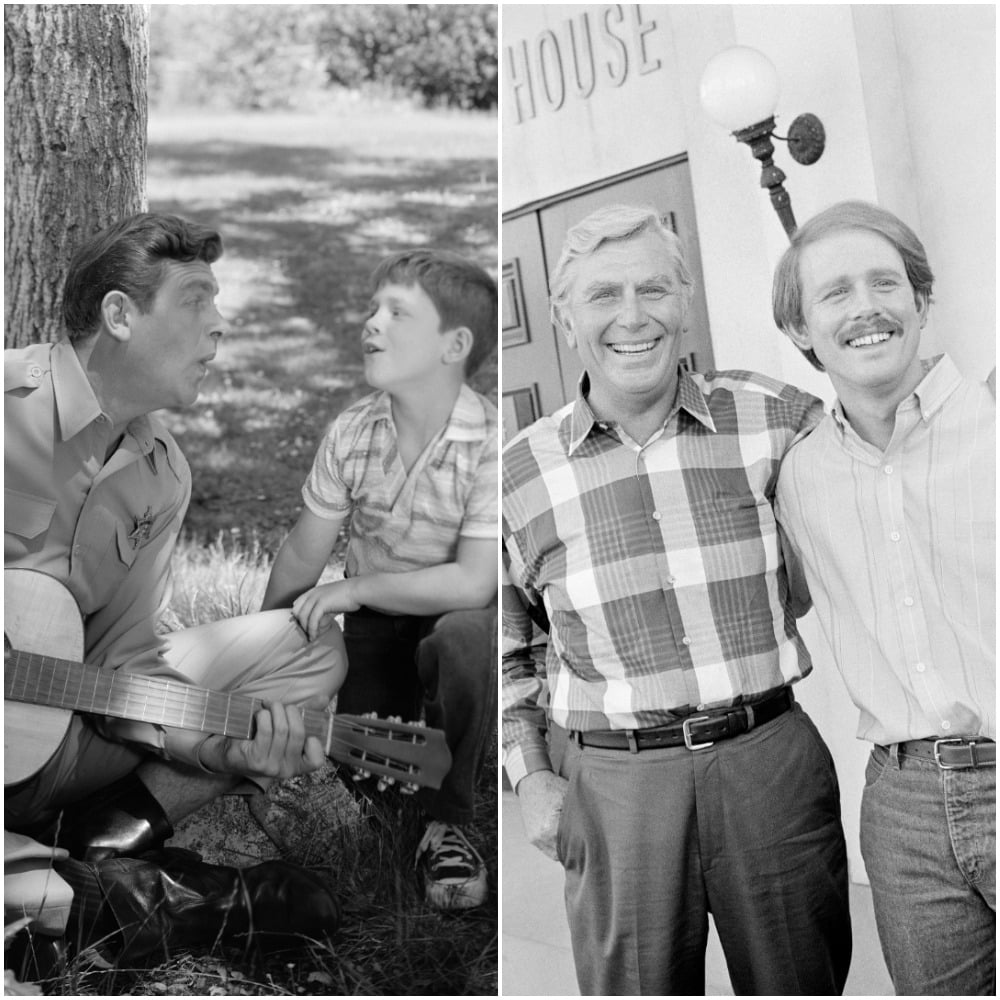 Howard's star turn on 'Happy Days'
In 1974, the actor began his leading role as Richie Cunningham on the ABC comedy Happy Days. Set in 1950s Milwaukee, the series saw Howard at age 20 embark on what would become his second successful television venture, as biographer Beverly Gray noted.
"Then came a seven-year stint on Happy Days, a candy-coated view of adolescence set in suburban Milwaukee, in which he played perennial nice guy Richie Cunningham," Gray wrote. "Howard was embraced by audiences who saw in his wholesome image a reflection of what American life ought to be."
Henry Winkler's ascension on the 1950s-set comedy
By season 4 of the show Winkler, who played Arthur "Fonzie" Fonzarelli, became a considerable star on the show.
The series from its start was written around teenager Richie Cunningham played by Howard and his high-school friends. But viewers couldn't get enough of Fonzie's upraised thumbs, his leather jacket, and his trademark "Hey!" Soon enough, the image of Fonzie was found on merchandising: t-shirts, lunchboxes, keychains. The Fonz had arrived.
Howard admitted that when the cast went on a publicity tour, it was "a little bit like we were a boy band and Henry was the lead singer," he told the Television Academy Foundation in 2006.
The producers eventually sat Howard down to tell him they were moving Henry Winkler more to the center of the show.
How Griffith's example helped Howard put the show first
The Richie Cunningham actor saw the writing on the wall for him on Happy Days. No longer the focal point of the program, Fonziemania had swept the nation and for much of the cast, it felt that they were in more of a supporting role.
Griffith himself encountered a similar experience on The Andy Griffith Show with Don Knotts' character of Barney Fife. After Knotts' first appearance on the show, Daniel de Visé in his book Andy and Don quoted Griffith as saying, "I knew that Don should be the comic and I should play straight for him, and that made all the difference." The author continued: "Andy had sacrificed himself, in a way, so that Don could thrive at the center of the Griffith Show."
It was evident on Happy Days that Howard, thanks to Griffith's example and his own strong collaborative spirit, had put his interests on the back burner to allow his friend Winkler, and the show, to shine.
Gray in her book observed that Happy Days' producer and creator Garry Marshall also noticed Howard's maturity: "Marshall credits Howard with learning from Andy Griffith how to swallow one's pride when another actor grabs the spotlight."
Source: Read Full Article