How Much Is Mina Starsiak Hawk From Good Bones Worth?
It's clear the show "Good Bones" made Mina Starsiak Hawk an HGTV fan favorite. She and her mother, Karen Laine, renovate houses on the hit show, which is returning for its sixth season. According to her HGTV bio, Mina is a real estate agent who started a renovation business with Karen called Two Chicks and a Hammer. While the two have been on TV since 2016, they started their careers by revitalizing "their favorite neighborhoods one house at a time" in their native Indianapolis. "Good Bones" now follows the mother-daughter duo as they buy dilapidated homes and transform them into beautiful remodels.
Mina opened up to USA Today in 2015 about how her life changed when HGTV reached out to her on Facebook. She revealed she even thought it was a scam, saying, "I was like, 'I know we're not that cool. So I did a little bit of research on the development company and find out that they're legit." Turns out that the network and fans took to the home-rehabber since Mina now also co-hosts HGTV's "Rock the Block" and was featured as a participant in their event-series, "A Very Brady Renovation."
Outside of TV, Mina` has over 500,000 followers on instagram where she shares some of her personal life with her husband, Steve Hawk, and their two young children, Jack and Charlotte. With an adorable family and a super successful career, it appears Mina has it all, but she did work quite hard to get there. 
Mina Starsiak Hawk was broke before starting her business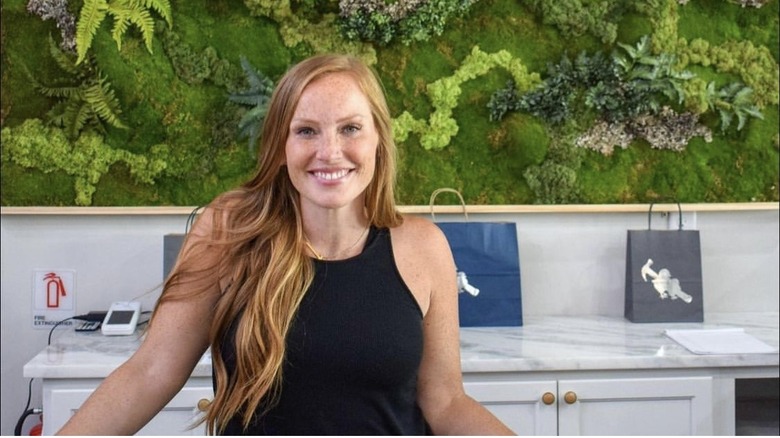 "Good Bones" star Mina Starsiak Hawk hit it big financially, thanks to Two Chicks and a Hammer, and her hit HGTV show, "Good Bones." Per Gossip Gist, Mina has a net worth of $2 million and makes $10,000-$20,000 per episode. Yet before she found success, Mina told USA Today that she was "broke" and bought her first house for only $37,500. When she and mom Karen worked together to fix it up, it's then they realized how much they love renovating. 
But starting their company wasn't easy. Mina explained, "We built the company from the ground up with no debt. I would go wait tables and she would literally go lawyer some stuff. We would come back and say, 'This is how much we've got. Let's go lay some tile!'"
The business paid off — and not only does Mina have "Good Bones," she also has other sources of income thanks to her celebrity. In 2020, Mina and Karen opened a retail store and bistro in Indianapolis called Two Chicks District Co, and Mina released her first children's book "Built Together" in February 2021.
It's clear Mina has money to spend how she pleases, which recently was on a "mommy makeover" that included a tummy tuck, liposuction and breast implants, according to Us Weekly. She explained, "Do what makes YOU feel good. It's okay to be selfish sometimes." Mina not only makes her own money, but isn't afraid to splurge on herself!
Source: Read Full Article