Patrick Mahomes and Brittany Matthews Are Finally Married! Everything We Know About Their Extravagant Hawaiian Wedding
ARTICLE HIGHLIGHTS
Patrick Mahomes popped the question to Brittany Matthews in September 2020.
The NFL superstar and his high school sweetheart finally got married on Saturday, March 12.
Here is everything we know about their extravagant Hawaiian wedding.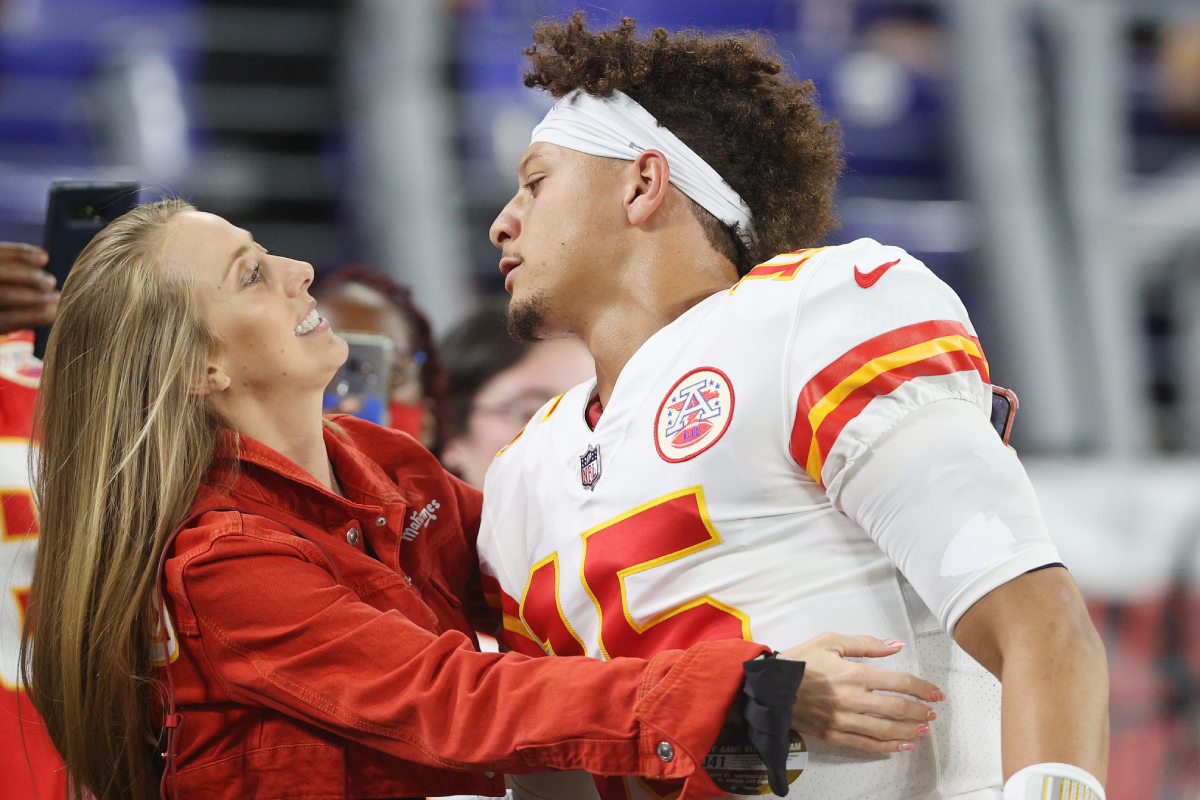 Patrick Mahomes and Brittany Matthews are finally married! The high school sweethearts — and parents of one-year-old Sterling Skye — tied the knot on Saturday, March 12. Here's everything we know about the Kansas City Chiefs quarterback and his bride's Hawaiian wedding.
Patrick Mahomes popped the question to Brittany Matthews in September 2020
Mahomes and Matthews started dating a decade ago when they were high schoolers in Whitehouse, Texas. They stayed together when they went to separate colleges — he went to Texas Tech in Lubbock, while she attended the University of Texas, Tyler.
After college, the duo ended up in Kansas City together after the Chiefs drafted Mahomes in 2017. While he led the team to their first Super Bowl victory in 50 years, she became a trainer and fitness entrepreneur and purchased an ownership stake in the Kansas City Current soccer team.
https://www.instagram.com/p/CEpt3tCAFhl/
On September 1, 2020, — Matthews 25th birthday and the day Mahomes received his Super Bowl ring — he popped the question with an 8-10 carat emerald cut diamond ring in a luxury box at Arrowhead Stadium.
"9.1.2020. On a day that was meant to celebrate you, you turned it into celebrating us. It's always us, it's always you and me. The words you looked into my eyes and said to me at this moment, will NEVER leave my mind!" Matthews posted on Instagram at the time.
Introducing 'Mr. & Mrs. Mahomes'
Mahomes and Matthews became husband and wife at sunset on Saturday, March 12 in Maui, Hawaii, surrounded by their closest family members and friends.
For their special day, Mahomes was dressed in a gray suit with a vest and dazzled loafers. While Matthews wore a stunning, bespoke Versace gown with a cutout corset-style bodice featuring crystal detailing, a criss-cross strap back, and a sweeping train and bustle. Daughter Sterling matched mom by wearing a white dress with a bow on the back.
https://www.instagram.com/p/CbCHY_Juo2M/
"Mr. & Mrs. Mahomes," the newlyweds wrote on Instagram in a joint post.
The couple's wedding party included Mahomes' younger brother Jackson, who served as best man. Mahomes' teammate Travis Kelce was a groomsman. And Kelce's girlfriend Kayla Nicole was one of Matthews' bridesmaids.
Patrick Mahomes and Brittany Matthews teased their nuptials on social media
In the week leading up to the wedding, Mahomes and Matthews both teased that their big day was coming via social media. Matthews posted photos from an island party that featured the bride and groom with their daughter. The personalized gifts from the event featured bottles of Coors Light with Matthews and Mahomes' pics on the label.
https://www.instagram.com/p/CbDEBBFOjL6/
Pics from the rehearsal dinner also showed up on the Instagram Stories and Twitter feeds of different wedding guests. On the big day, Mahomes' mother Randi posted side-by-side photos of mom and son. One was from her wedding day, when Mahomes appeared to be around Kindergarten age. The other was a pic of the duo on his wedding day.
"Wow how the time flies. My boy is married!!" Randi wrote. "I love you always and forever ❤️ you will always be my first born 💗."
Source: Read Full Article