'The Blacklist' EP Says the 'Biggest Answers in 8 Years' Will Unfold by the End of Season 8
The Blacklist has asked a lot of questions over the years but executive producer Jon Bokenkamp promises big reveals by the season 8 finale. In the next two episodes, former FBI Agent Elizabeth Keen (Megan Boone) will embark on a journey of truth — finally — and Raymond "Red" Reddington (James Spader) is the one to give her those answers. Here's everything we know about what's ahead.
[Spoiler alert: Details about The Blacklist Season 8 episode "Godwin Page" below]
Answers begin at the end of 'The Blacklist' episode 'Godwin Page'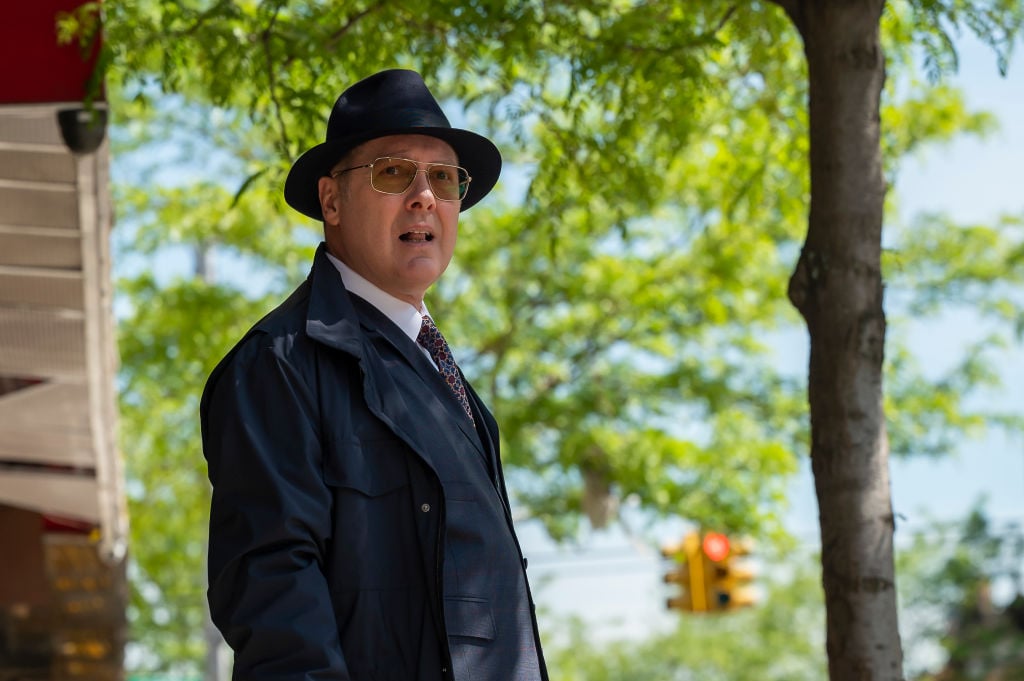 After 8 long years, things are finally getting to the meat of The Blacklist's premise: who is Raymond Reddington and why did he turn Liz Keen's life upside down? In the latest episode, Liz convinced Godwin Page — one of Townsend's mercenaries who'd been captured by Red — to rip the tracking device out of his neck, deactivate it until she left with Red, then reactivate it so Townsend could kill Red.
She made a deal with Townsend to save herself and it might've worked if Red didn't whisk Liz into a plane when she reactivated the chip. They flew to Latvia where Red promised to explain everything about the Skorsky Archive, Katarina Rostova, and the fire that left a scar on Liz's wrist.
At the end of the episode, Red took Liz to a place he called "the blacklist." Will Red really tell the truth this time or is it all another ruse to continue the cat-and-mouse game as season 9 sets up?
"Red is in a place where he knows that the only way he can protect Liz is by telling her everything, and he has every intention of doing that," Bokenkamp told Entertainment Weekly. "The answers that were suggested by Reddington in tonight's episode are an appetizer for what's to come."
Bokenkamp promises big answers ahead
With the way the episode ended, it looks like the show is finally headed toward answers. Bokenkamp said upon entering that Latvia building, "the blacklist" will no longer be a conceptual idea.
"I would almost think of it as a brick-and-mortar operation of Reddington's that we've never seen before," he said. "He's a guy who has money and resources and intelligence, and it's all sort of a mystery. This space that we're entering is as tangible of a hold as we can get on Reddington."
He continued: "Red's intent is to play fair with her and to tell her the story, 'to tell her everything,' I believe are the words that he says. He has taken her halfway across the world to this very secretive front operation that is basically a distribution outfit. We're going to get into this, I will call it almost operation center, to see sort of the inner workings of his empire. Beyond the inner workings of the empire, we have the promise of Red telling Liz everything."
'The Blacklist' answers come with a look back
Answers about Red's history with Katarina and Liz's undoing with the FBI will also come in the black-and-white filmed, "Nachalo." He explained it as the Russian word for "the beginning."
"It's fair to say that we are coming to a close of a story on this series. It's not necessarily the close of the series, but we are resolving a sprawling story that we've been telling for eight years, and we're going to have a real understanding of why this man came into Elizabeth Keen's life, why she's in danger, why Katarina did what she did," Bokenkamp said.
While those answers will come, the next episode, he teased, unpacks "eight years of mythology" tied to the night of the fire.
"We're going back to Cape May, we're going back to pivotal moments that have defined why Raymond Reddington came into Elizabeth Keen's life, and we've never really done this before," he said.
"Nachalo" will tie up loose ends and connect characters from Red's past.
"These last two episodes, which, in a weird way, are kind of a companion piece, are incredibly surprising," he said. "It's really hard after eight years to find new surprises, and I think these next two episodes have some of the biggest surprises we've had in eight years."
Fans hope Red gives real answers this time
With two episodes remaining in season 8, fans hope the promise for answers is real. The Blacklist fatigue is real, as shown in the numerous comments on the show's social media posts.
Yall stretching this show so much…" one fan commented on the show's Instagram page.
"UGHHHHH! ANOTHER EPISODE WITH NO REAL ANSWERS!" another said.
"So tired of this story line," another fan said.
"Oh FFS. Once again, nothing is happening and we learn nothing. Y'all are boring me to death." another added.
We're going to take Bokenkamp's word for it and believe some solid answers come by the season's end. That said, if they address all loose ends, there'd be little left to work with in season 9. Stay patient, Blacklist friends. The truth is coming (we hope).
The Blacklist returns Wednesday, June 16, at 10 p.m. ET on NBC.
Source: Read Full Article