'The Tiger King and I': 7 Shocking Revelations From the Bonus Episode
Netflix's belated Tiger King: Murder, Mayhem, and Madness aftershow is available to stream on Netflix now. Host, Joel McHale, took on eight of the docuseries' biggest stars in The Tiger King and I. Joseph Maldonado-Passage (aka Joe Exotic), Carole Baskin, and Doc Antle are noticeably missing, but it didn't keep the interviewees from revealing even more information about the nation's latest obsession. Here's what we learned (brace yourselves).
[Spoilers from The Tiger King and I below]
Erik Cowie revealed his biggest regret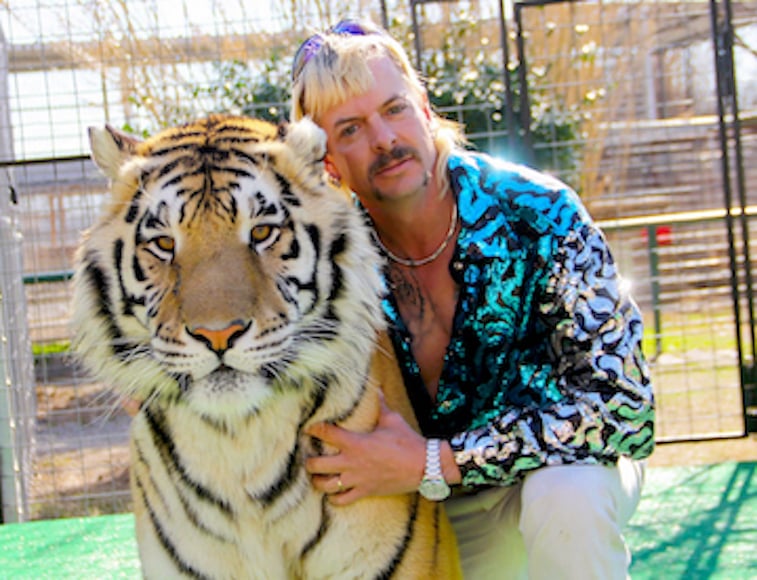 Throughout Tiger King and I, one thread remained: did Maldonado-Passage kill tigers for ludacris reasons? Head zookeeper, Erik Cowie, said yes. He revealed Maldonado-Passage used him to tranquilize big cats so they could be euthanized and it still haunts him.
"They used me because just by my appearance or my voice, I could get a cat up the side of a cage where we could dart it and tranquilize it," he said. "You know those cats trusted me up until the end and somehow, I swear they're like, 'dude, you let me down,' kind of thing."
Cowie hasn't watched Tiger King but his testimony further legitimizes Maldonado-Passage's prison sentence, which includes multiple counts of animal violations, such as the death of five tigers.
When asked if the cats were put down for medical reasons, Cowie didn't hesitate.
"You would think, but no," he said.
Maldonado-Passage allegedly blew up John Reinke's cabin and golf cart
Reinke explained that he's had no contact with Maldonado-Passage, mostly because the case is ongoing and [Maldonado-Passage] can't "keep his mouth shut." Reinke said he quit shortly after Jeff Lowe and Dillon Passage got into a "15-minute fistfight."
That aside, his relationship with Maldonado-Passage ended far before the arrest and conviction that led to his 22-year prison sentence.
"The man's done a lot of stupid sh*t," he said. "I mean there towards the end, he got to where he's blowing everything up. Hell, he blew up my golf cart and my damn cabin. Knocked the windshield out of my golf cart. Blew a hole in my cabin. Blew the window out."
Erik Cowie does not want Joe to be a free man
Cowie cleared up a few things during Tiger King and I. One of which comes after viewers have commented on his teeth, claiming he does meth. He refuted that claim saying he's never done it.
Later, when asked if he thinks Maldonado-Passage should be released from prison, Cowie didn't hold back.
"He's gonna die in there. Good riddance," Cowie said.
Maldonado-Passage allegedly killed animals for 'cage space'
Two of the interviewees, Jeff and Lauren Lowe, have become "villains" in the world of Tiger King — something Jeff bit back on. The new owner of [the formerly-titled] G.W. Zoo said his involvement in "setting up"Maldonado-Passage is a "crock of sh*t."
That aside, the Lowe's claimed that they personally witnessed Maldonado-Passage's unnecessary tiger-killing, specifically two three-year-old tigers.
"They were beautiful, healthy tigers that he called over to the fence and he shot them in the head because he needed the cage space," Jeff said.
Joe Exotic did a lot of good things 'Tiger King' didn't show
Fan-favorite and zoo employee, Saff, echoed those revelations saying there came a point when Maldonado-Passage's behavior was out of [Saff's] control.
"Joe always had a way of explaining his actions. So, 'they were old, they were injured, they were suffering,' is what we got," he said.
However, Saff also added that his former boss did a lot of good things that Tiger King didn't show, such as the extent of that Thanksgiving meal shown on camera.
"He fed people a whole thanksgiving dinner for free that him and his family cooked, you know, for the entire night prior," Saff explained.
"Every single year since I've been there, and I've been there for almost 10 years. I've seen him give the jacket off his back for people. And I think that wasn't highlighted enough. Joe did a lot of messed up stuff. That's a fact, and that's shown, and now the entire world knows it. But he did a lotta good things, too."
When it came to the question of "Joe Exotic's" freedom, Saff believes "justice was served," adding, "but I still don't wanna see that man die in prison," he said.
'Joe Exotic' asked Rick Kirkham to kill Carole Baskin
Former JoeExotic TV producer, Rick Kirkham, had some of the bigger bombshells of the episode.
"I mean he asked me to kill Carole one time," he admitted in reference to the murder-for-hire plot against Carole Baskin. "But you know, it was like a joke. He was like, 'I'll make you a rich man if you kill Carole.'"
He added: "But that's when he got serious. When I left the park and the zoo burned, the studio burned, that's when Joe started downhill hard," he said.
Kirkham said he still "has nightmares" about his experience in the world of Tiger King.
"And since this documentary came out, I've had more nightmares about having lived on that park. I want to put this chapter away but it keeps getting bigger and bigger and bigger."
Maldonado-Passage only entered tiger cages when they were drugged
It's been said before that Maldonado-Passage actually feared the big cats on his property, but Kirkham revealed the secret to how Maldonado-Passage was able to stand in their cages seemingly unfazed.
"The one thing that wasn't pointed out in the docuseries that's really important to know, too, Joe was terrified of big cats," Kirkham said.
"He was scared to death of lions and tigers. In the shots that you see in there, where he's in with two tigers—the white one and the other one—the white one is blind and the other one is on tranquilizers. It's idiotic to think how he's become famous as 'the tiger king' when he's so terrified of big cats."
This is a lot to digest. No doubt, more revelations will come in due time.
Tiger King and I is available on Netflix now.
Source: Read Full Article