The Truth About Jimmy Kimmels Relationship With Molly McNearney
Molly McNearney got Jimmy Kimmel good on their wedding day. When the co-head writer for "Jimmy Kimmel Live!" and the late-night host married in 2013, McNearney knew a little comic relief would go a long way when it was time to say "I do." "At the wedding, we wrote our own vows, and Jimmy was a little bit nervous," she told Glamour in 2014. "For a guy who is on TV every night, he doesn't actually like to have a lot of attention on him, especially when it's showing his emotional, vulnerable side."
McNearney enlisted their friend, actor and author Gabourey Sidibe, for some wedding ceremony backup. In a wedding dress of her own, Sidibe appeared with McNearney right as the real bride was ready to walk down the aisle. "My mom and dad looked up, and my dad said, 'Oh no, someone double-booked!'" McNearney said in Glamour. "She was just hilarious and so wonderful."
Clearly, humor is center stage for the pair of talk show collaborators — and that's just one piece of the truth about Molly McNearney and Jimmy Kimmel's relationship.
Molly McNearney started out as a writer's assistant on Jimmy Kimmel's show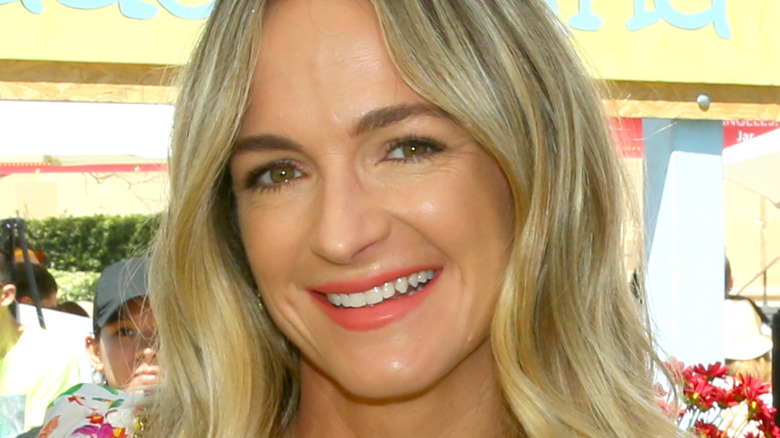 Things between Jimmy Kimmel and Molly McNearney started out strictly professional. "I never once thought of him that way or looked at him that way," McNearney recalled to Glamour in 2014. "I was in a relationship and he was in a relationship, so it never occurred to me. And that's workplace 101. You don't date your boss."
The St. Louis native, who told Vanity Fair in 2018 that she'd never seen Kimmel's TV show before she took the job, was hired as a writer's assistant on "Jimmy Kimmel Live!" in 2003. According to McNearney, the show's writers often hung out with Kimmel after episodes, and as her friendship with him grew, their feelings for each other followed. Kimmel's cooking helped too. "At one of the writers' meetings … he asked us what our five favorite foods were," McNearney shared with Glamour. "Shortly after, he had invited me to his house, and I was very nervous. I mean, this is my boss. I was thinking, I gotta be careful here. He opens the door, and the whole house smelled delicious. He had made [my favorite foods] all from scratch. I couldn't believe it, and I realized how incredibly thoughtful and generous he really was."
McNearney said she had concerns about what her coworkers would think, especially because she was the only female writer on staff at the time. But everyone was "supportive and kind" as they went public with their relationship.
Before he met Molly McNearney, Jimmy Kimmel got married 'very young'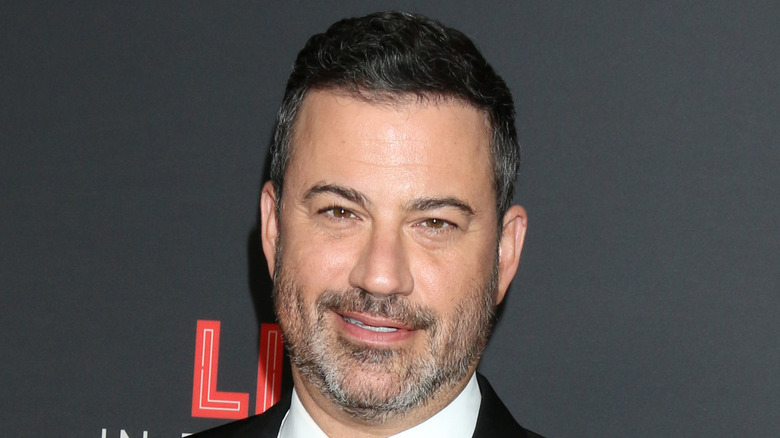 Since 2003, Jimmy Kimmel has sat at the helm of his Emmy-nominated late-night show. But in his previous life, the Mets fanatic got his start in radio before breaking out on Comedy Central shows like "Win Ben Stein's Money" and "The Man Show." In 1988, he married Gina Maddy-Kimmel, and they went on to have two children together, Katie and Kevin.
Just prior to the launch of "Jimmy Kimmel Live!" on ABC in 2003, Maddy-Kimmel filed for divorce, citing "irreconcilable differences," per the AP (via Midland Daily News). In a 2012 HuffPost interview, Kimmel pointed to age as a factor in their breakup. "I was a kid. We were both very young," he said. "My mom was 19 when she got married, so it didn't seem unusual to me. It seemed unusual to all my friends, but not to me."
As he embarked on his late-night hosting duties, Kimmel moved on to his first high-profile relationship, with friend and fellow comedian Sarah Silverman.
Jimmy Kimmel and Sarah Silverman are the friendliest and funniest of exes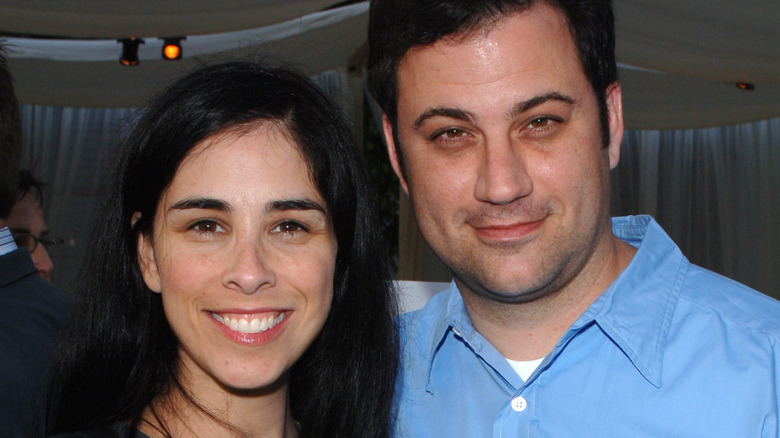 A speech from your ex at your Hollywood Walk of Fame ceremony might be weird for some, but not for Jimmy Kimmel and Sarah Silverman. And if that speech references your "fling" with your ex's arch nemesis? Totally cool by them, too. "Who can forget her smash hit viral video, 'I'm F***ing Matt Damon'? I know I can't," Kimmel said at the unveiling ceremony for Silverman's star in 2018. "Sarah won an Emmy for that appearance on my show. Just to be clear, I have never won an Emmy for an appearance on my show."
Silverman and Kimmel dated until 2009, and they've since been able to forge a friendship in the wake of their breakup, with Silverman regularly appearing on "Jimmy Kimmel Live!". In a 2018 episode, she even joked with him about his relationship with Molly McNearney. "It's not fair. She gets new woke Jimmy," Silverman said. "I had 'Man Show' Jimmy."
Kimmel revealed on "Watch What Happens Live with Andy Cohen" in 2019 that it was a while before he and Silverman got back to being buds. "It was never like where we didn't like each other, hated each other or anything like that," he shared. "But it definitely took some time to be comfortable enough to be friends again." McNearney has shared that she's also fond of Silverman, telling Glamour in 2014, "I think it's a great example that you don't have to cut your exes out of [your] life."
The wedding of Jimmy Kimmel and Molly McNearney had quite the guest list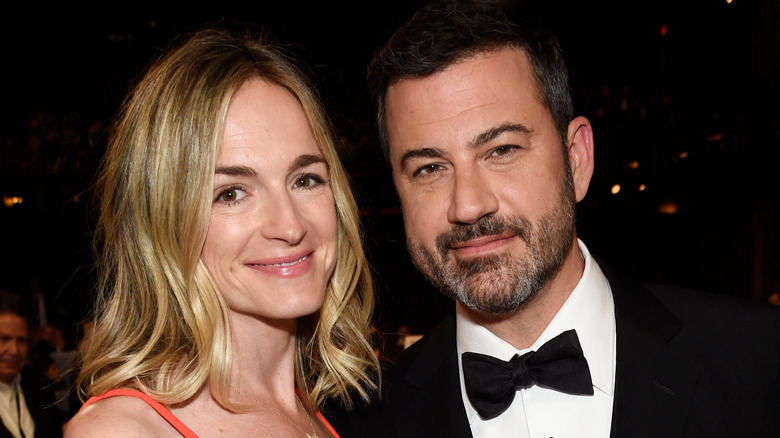 When you're a late-night talk show host, it's pretty reasonable to expect a few famous faces when you throw a party. Jimmy Kimmel and Molly McNearney's wedding? Why, it was the A-list event of the summer. The two tied the knot in Ojai, California, in July 2013, and according to the Los Angeles Times, everyone who was anyone was there. The guest list included Ben Affleck and then-wife Jennifer Garner, Jennifer Aniston and then-fiancé Justin Theroux, Ellen DeGeneres and Portia DeRossi, Howard Stern, Emily Blunt and John Krasinski, and rival-to-the-end Matt Damon. And, of course, Gabourey Sidibe was there flexing her prank game.
In 2012, Glamour reported that Kimmel popped the question while he and McNearney were vacationing together in South Africa. In early 2014, Kimmel announced that he was going to be a dad for the third time on "The Ellen DeGeneres Show." "I have two kids already. I don't know where they are, but I hear they are doing great," he joked. "I have a 20-year-old son and a 22-year-old daughter, and I've forgotten everything. … I told my daughter there's only so much love I have to give, and you're going to have to split it up with the new kid." In the summer of 2014, their daughter Jane was born. 
Jimmy Kimmel and Molly McNearney's son was born with a congenital heart defect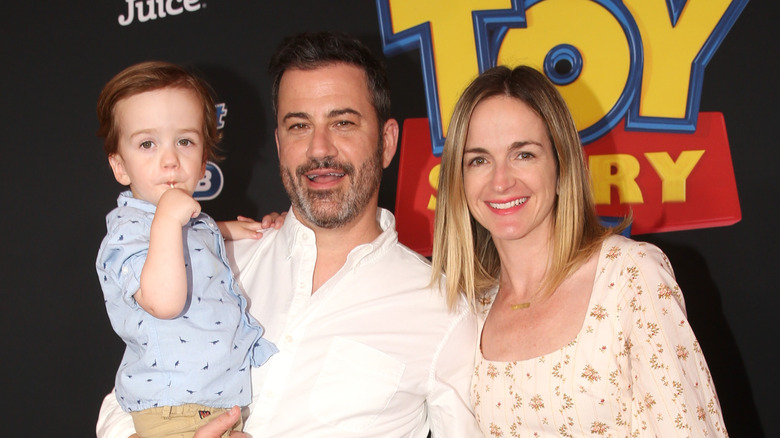 Hours after Molly McNearney and Jimmy Kimmel welcomed son Billy into the world in April 2017, it was clear to the nurses and doctors at Cedars-Sinai Hospital in Los Angeles that something was wrong, and they took action. "I saw [Billy in the neonatal ICU] in his incubator with all these tubes in him," McNearney told The Hollywood Reporter in late 2017. Billy was born with a congenital heart defect, and he was moved to Children's Hospital Los Angeles for his first of eventually three open-heart surgeries. When Kimmel returned to his hosting duties after Billy's first successful procedure, he used his monologue to honor the medical professionals who'd cared for his son and to advocate for better health care in America.
"Until a few years ago, millions and millions of us had no access to health insurance at all," Kimmel said on his May 1, 2017 show. "If your baby is going to die and it doesn't have to, it shouldn't matter how much money you make. I think that's something that whether you're a Republican or Democrat or something else, we all agree on that, I mean right?"
McNearney typically works on the nightly monologue with Kimmel and the writing staff, but for this episode, she was on maternity leave. She told Vanity Fair in 2018 that Kimmel had kept his thoughts for the viral monologue close to the vest that night, saying to her, "I'm going to talk about Billy on Monday."
Molly McNearney and Jimmy Kimmel are done 'sitting on the sidelines'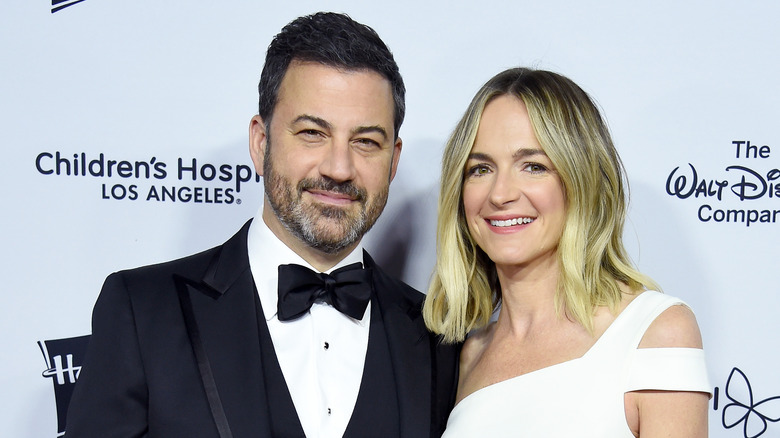 Molly McNearney and Jimmy Kimmel's experience with their son Billy's heart condition changed their perspective on being public figures. "Because [of] what we went through with our son, I felt such great community and support and love from people I've never met — other parents of children with similar conditions to Billy's," McNearney told Vanity Fair in 2018. "I've tried really hard to be as active as I can, because I think sitting on the sidelines while politicians are ignoring what we're saying — those days are done."
McNearney has also said that Kimmel's monologue moment was risky for his career. "He didn't have to do that. Our family has excellent health care; he had nothing to gain from that," she said to The Hollywood Reporter in 2017. "He did it for the other people whom we met in that hospital. He came home that night, and I just hugged him and I wouldn't let go."
Since his initial surgery, Billy has undergone two additional procedures, and his parents continue to advocate on his behalf.
Jimmy Kimmel Live! is a family affair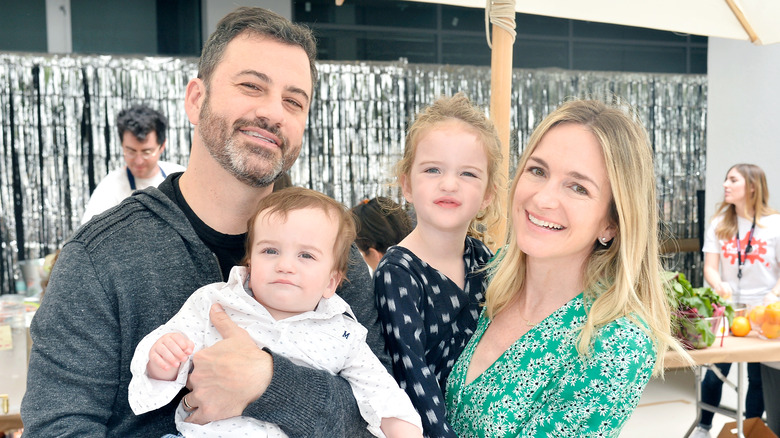 Jimmy Kimmel included his daughter Jane on his show before she was even born. In a hilarious video that went viral in 2017 called "Who's the Baby Daddy? Jimmy Kimmel or Matt Damon," Kimmel's wife, Molly McNearney, broke the "news" to her husband about her ongoing affair with his most maligned guest. In the end, their child's paternity took a back seat to the real issue at hand, McNearney declaring to the two men, "How can either of you satisfy me when all you really want is each other?"
Since the arrivals of Jane and Billy, Kimmel has often included them in funny segments on his show, with McNearney frequently appearing as well. Quarantine during the coronavirus pandemic proved a particularly ripe environment for the late-night host to film bits at home, from enlisting the kids in a round of "Who Wants to Be a Millionaire" to hosting a workplace harassment seminar with Mom and Dad. In that early 2021 clip, Kimmel was left contemplating legal action.
"Am I heavy or light, Billy?" Kimmel asked his son. When Billy responded with the less delicate answer, Kimmel joked, "I'm going to sue you if you do that again." McNearney used the exercise to call out her husband. When he asked "Can you think of any bad names that you might call somebody?" she said, "Well, like when you tell the kids that I toot, and then they call me tootie head."
Molly McNearney is an executive producer of Jimmy Kimmel's show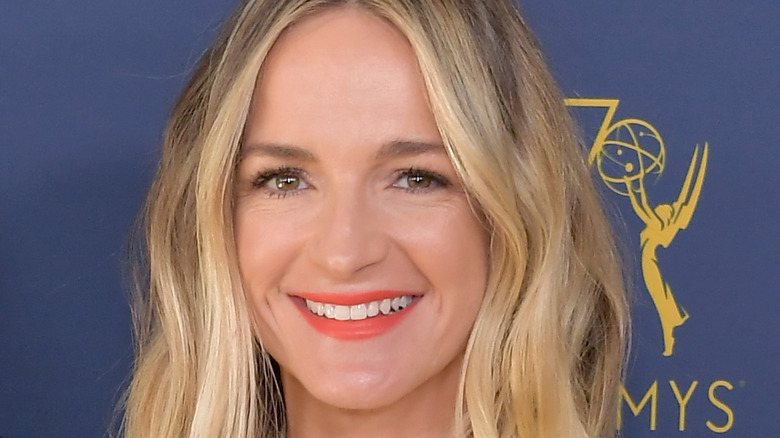 Molly McNearney has been a co-head writer of "Jimmy Kimmel Live!" since 2008, but in 2021, she added executive producer to her name. Regarding the promotions of McNearney and two other female producers, Kimmel said in a statement via Variety that the trio of women "run what I believe is the best team in television. I am very lucky to have them. This promotion is long overdue and well-deserved." And as Vanity Fair noted, McNearney also collaborated with Kimmel on his Emmy-nominated Oscar hosting gigs in 2017 and 2018, and the popular "Celebrities Read Mean Tweets" series was McNearney's idea.
Working with your partner does have its challenges, as McNearney has shared. Keeping work life separate from home life has been key, though that's not always possible. As she told The Hollywood Reporter, "Occasionally, I'll be brushing my teeth at night and go, 'Really? That was a good idea that you rejected today.'"
In a 2018 interview with KSDK in her hometown of St. Louis, McNearney said Kimmel put her at ease at the start of their relationship. "I was very scared that if this doesn't work out, I'm screwed," she said. "I mean, I have to quit. You're fine. You get to keep this job, and you'll be fine. But he just kept reassuring me and turns out, he was right."
Jimmy Kimmel and Molly McNearney keep it personal on the show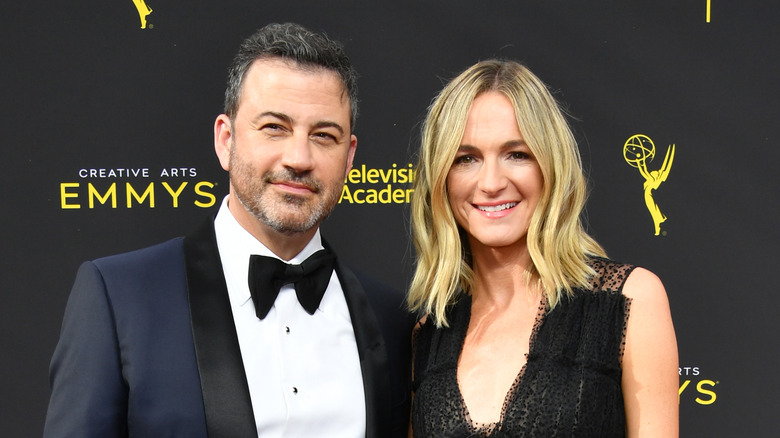 In the years following son Billy's birth, Molly McNearney and Jimmy Kimmel continue to utilize their platforms to call for increased access to health care. In the lead-up to the 2020 presidential election, Kimmel once again used one of his "Jimmy Kimmel Live!" monologues to talk about their experience with Billy in the hospital.
"It's easy to get distracted, but I want to bring us back to focus on something we can't afford to forget," Kimmel said on his talk show in October 2020. "The vast majority of this country agrees that health insurance should cover Americans with preexisting conditions. … This is not a partisan issue." After Kimmel spoke, he played a video McNearney had made that showed what Billy went through and urged viewers to vote in the upcoming election.
But advocacy is not the only recent focus of the Kimmel-McNearney household. McNearney has been cleaning out Kimmel's crap — and gifting fans on Hollywood Boulevard. On a February 2021 episode of "Jimmy Kimmel Live!", McNearney led a giveaway session outside of Kimmel's studio in L.A., getting rid of everything from Fourth of July flag sneakers to questionably obtained golf clubs. Could this become a regular McNearney-Kimmel segment on the late-night show? Stay tuned.
Source: Read Full Article