The Untold Truth Of Porsha Williams
Porsha Williams burst onto "The Real Housewives of Atlanta" when she joined the show's fifth season in 2012, along with fellow new arrival Kenya Moore. The newbies quickly proved to be standouts, with ScreenRant recalling that the two women's feud was a go from the moment when Williams referred to Moore as "Miss America." (Moore actually won the Miss USA pageant in 1993.)
The "RHOA" drama that ensued only caused Williams' fame to grow. This led to opportunities beyond the show, such as competing in the Arnold Schwarzenegger-hosted season of "The New Celebrity Apprentice" in 2017 and the publication of her first book, "The Pursuit of Porsha." In early 2021, details emerged that Williams had signed a deal for a three-part Bravo special about her life, which a source told Page Six was "supposed to focus on Porsha, her activism, and her family."
Williams is indeed firmly entrenched within the firmament of reality television, yet there's a lot about this multifaceted media personality that even her most ardent fans may not know. To find out more, read on to discover the untold truth of Porsha Williams. 
The short but sweet music career of Porsha Williams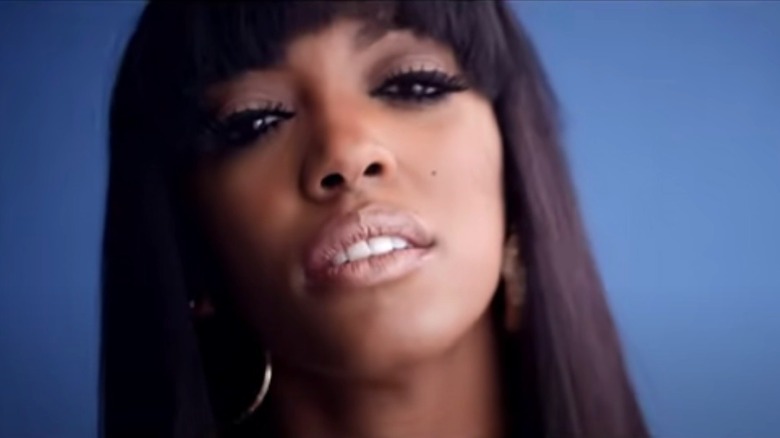 Viewers of "The Real Housewives of Atlanta" watched Porsha Williams' marriage to NFL player Kordell Stewart disintegrate on the show, ultimately resulting in divorce. As she picked up the pieces, Williams told Bravo's The Daily Dish in January 2014 she was channelling all that heartbreak in a musical direction for her single "Flatline." 
"I've been working on this song throughout the whole divorce and the whole season [of 'The Real Housewives of Atlanta'], mapping out my emotions and putting in things that I've gone through," she explained to the website. "It's really kind of a documentary of everything that I went through to become who I am now." The song, she added, presented her "really being vulnerable and just saying the things that a lot of people feel when you have a heartache and break up with someone." After the release of "Flatline," she performed the tune onstage in New York City in May 2014, and later that year at the Allstate Tom Joyner Family Reunion. 
According to a press release, Williams' first (and, as of June 2021, only) single debuted at "No. 3 on the iTunes RnB Top 100" chart.
Porsha Williams' grandfather was a civil rights activist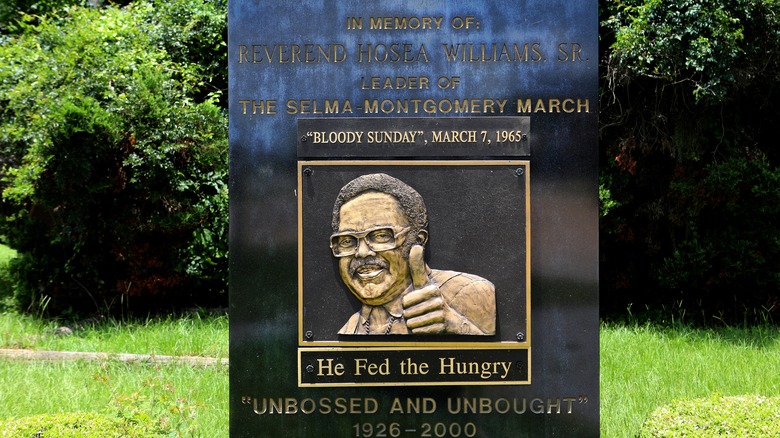 In 2020, Porsha WIlliams was among the millions who took to the streets in protest after police shot and killed Breonna Taylor. Protesting for social justice is in her blood, given that she's the granddaughter of famed civil rights activist and politician Rev. Hosea Williams, who worked alongside Martin Luther King Jr. and helped to organize the historic march from Selma to Montgomery in 1965.
During an appearance on Andy Cohen's "Watch What Happens Live," Williams was asked what her late grandfather would think of her role on "The Real Housewives of Atlanta." "He would love it," she declared, via The Daily Dish. In fact, she equated her grandfather's outspokenness to her "RHOA" persona. According to Williams, her grandfather was nicknamed "the bull in the china cabinet," because of his ability to "rally everybody together, and get everybody enraged and passionate about the cause. So, me being how I am is exactly how he was. He was just as outspoken and passionate as me."
Williams also appeared on an "Amplify Our Voices" dialogue on Instagram Live, noted The Daily Dish, where she said her grandfather would be "saddened" that racial equality in America hadn't advanced further by 2020.
Porsha Williams is a crusader against police violence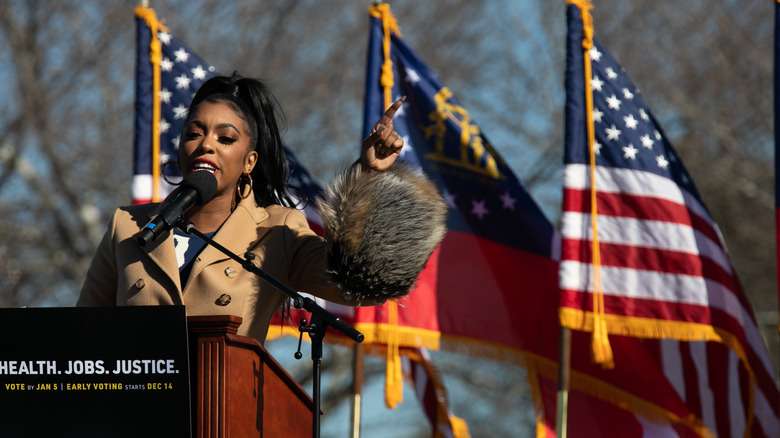 Given her family history, it's not surprising that Porsha Williams would be active in working toward change. As a profile in The New York Times put it, she may come across as a "glamorous goofball" on "The Real Housewives of Atlanta," but crusading for civil rights is something she takes deadly seriously. 
"When I saw that video of George Floyd being murdered, I knew that I had to change the way I was moving," she told the Times of her commitment to activism. She noted that she considered what kind of repercussions her activism could hold for her reality TV career, but decided to let the chips fall. "That meant now I have to sacrifice myself, my finance, my brand, my everything, and put it all on the line for change," she said.
As Williams added in an interview with Elle, she simply felt as if she really didn't have a choice. "I have a platform, and I felt compelled to use it to bring awareness to what is happening to Black folks in America and the need for us to take action in America," she explained. Williams was arrested twice in 2020 while participating in peaceful protests.
After a long fertility struggle, Porsha Williams welcomed a daughter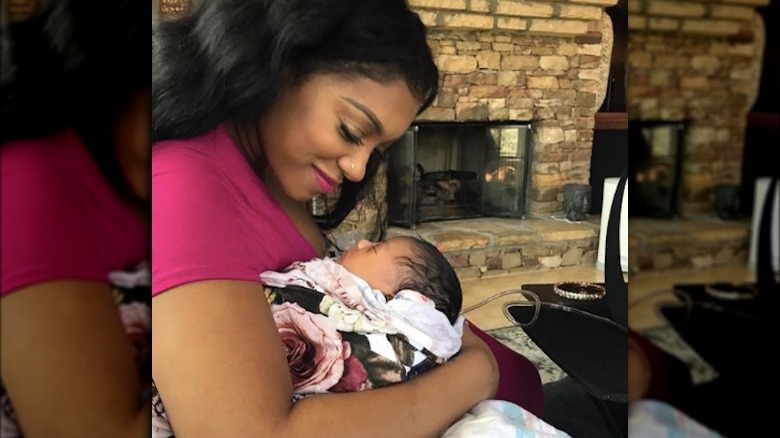 After her divorce, Porsha Williams moved on and eventually became engaged to Dennis McKinley. When she learned that she and her then-fiancé were going to be parents, the news wasn't met with the kind of joy that an expectant mother would typically feel. As the "Real Housewives of Atlanta" star told People in 2018, experiencing a miscarriage several years earlier had left her full of trepidation and anxiety about becoming pregnant. 
"When I found out I was pregnant, I was excited [but] I had mixed feelings. The other feeling that I had beside excitement was fear," Williams shared with the publication. "So just the fear of, 'Is the baby going to be okay? Will I make it full term?' All those questions that you ask if you've had a miscarriage before." It wasn't until she'd been examined by her doctor, "being able to see baby and hear baby and know that baby is fine," that she was finally able to "wrap my mind around actually becoming a mommy." 
In March 2019, People reported that Williams welcomed daughter Pilar Jhena, born without complications. "We couldn't have imagined a more magical moment!" the couple shared in a statement. 
Porsha Williams' theory on why Dennis McKinley was unfaithful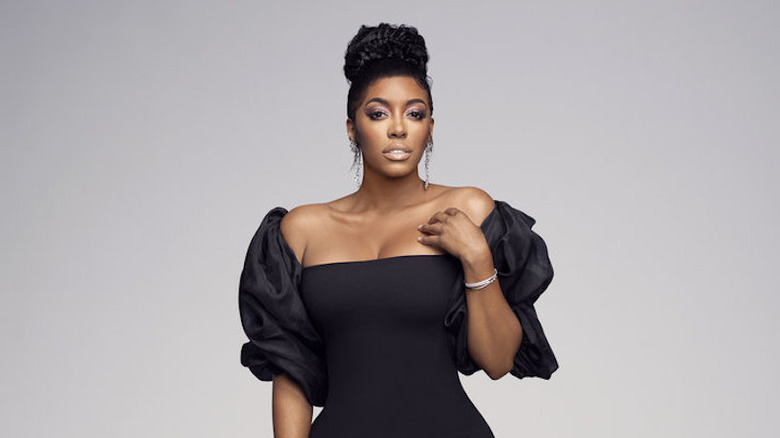 Following her divorce from Kordell Stewart, Williams' relationship with new fiancé Dennis McKinley proved to be no less turbulent. This came to a head when he admitted to cheating following the birth of their daughter. McKinley blamed his infidelity on Williams' postpartum depression after the birth of their daughter. 
In a discussion on "The Real Housewives of Atlanta Season 12 After Show," reported The Daily Dish, Williams revealed "that wasn't the whole reason of why he had stepped out." She believed she possibly contributed to an atmosphere that may have led him to believe he'd be easily forgiven for cheating. "I did have a pattern of even saying out loud, 'Ignorance is bliss. I don't even want to know… I'm not asking all those questions,'" she said. "You don't realize when you're saying all that stuff like that, it lands somewhere," she added, "and it was landing with him, probably in a way too, it's like, 'If I do something, I could just apologize.'" 
In 2019, Williams announced the couple were "re-engaged," admitting on an episode of Andy Cohen's "Watch What Happens Live" that they were "still working it out."
Porsha Williams has been arrested more than once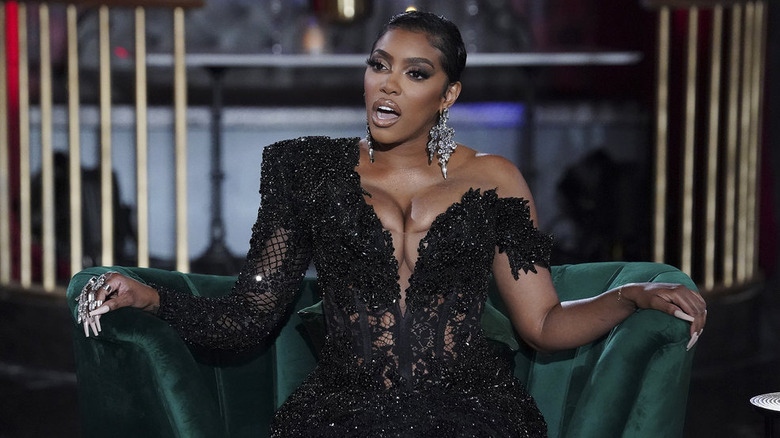 Like other members of the "Real Housewives" franchise, Porsha Williams has had her brushes with the law. According to a report in TMZ, Williams and rival Kenya Moore got into it during a 2014 "Real Housewives of Atlanta" reunion special, which became so heated that Williams pulled Moore's hair. As Williams was hauled off the set, reported ABC News, she admitted she'd "embarrassed" herself, and blamed Moore for goading her into getting physical. "I can't believe that wretched h* made me go there," she lamented.
Moore then pressed charges. The Atlanta Journal Constitution reported that Williams was subsequently served with an arrest warrant and turned herself in. She was released after posting $2,000 bail. 
Williams found herself behind bars later that year, reported TMZ, when she was pulled over for allegedly driving 78 miles per hour in a 55 mph zone. It wasn't the speeding that led to her arrest, however, but the fact that her license had been suspended. The Atlanta Journal-Constitution offered more details about Williams' arrest, including that she refused the officer's attempts to handcuff her — four times — and repeatedly called him an expletive. She was released after posting a $1,726 bond.
The ex-husband of another RHOA star became Porsha Williams' fiancé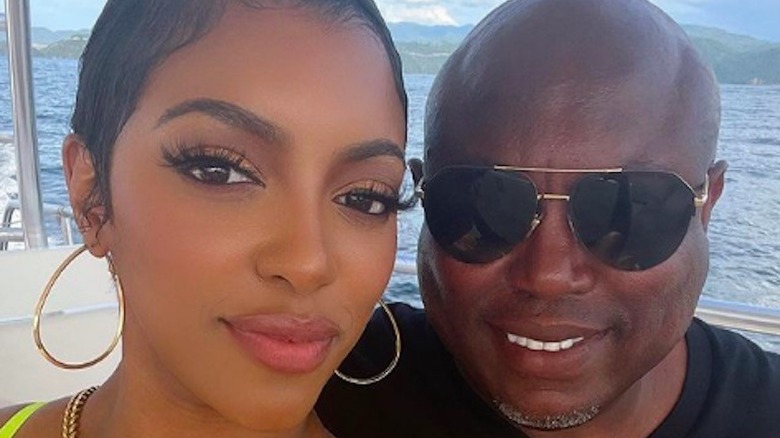 After her marriage and subsequent engagement imploded in front of reality TV cameras, Porsha Williams took a bold step in May 2021 when she took to Instagram to reveal she was in a relationship with Simon Guobadia. As regular viewers of "The Real Housewives of Atlanta" are well aware, what made this relationship particularly awkward was that Simon had recently divorced Williams' "RHOA" co-star Falynn Guobadia. In her post, Williams wrote that their romance had started just one month earlier, and they were now  "crazy in love." She added, "I know it's fast but we are living life each day to its fullest."
Williams' new beau shared a post on Instagram later that same day to reveal that not only were they an item, they were engaged. He popped the question, he wrote, and "she said yes."
Falynn Guobadia initially stayed silent before eventually issuing a statement to E! News. "At this time, I am focusing on finalizing my divorce and healing," she said, addressing news of the engagement. "Sending positivity to all of you."
Another Housewife wondered if Porsha Williams' engagement was all for TV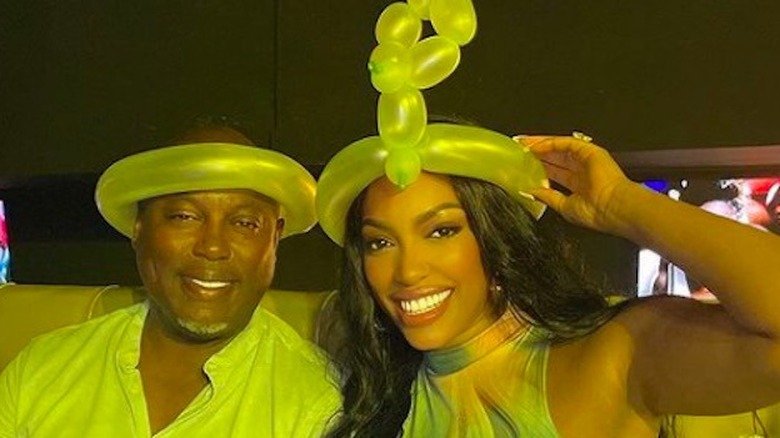 While Porsha Williams' engagement to the ex-husband of another "The Real Housewives of Atlanta" star left viewers of the show stunned, a member of another "Real Housewives" cast voiced her skepticism. "The Real Housewives of Beverly Hills" star and "The Real" co-host Garcelle Beauvais admitted she was dubious that the whole thing was legit.
"I don't think she took [her] man, but a month you guys? A month," Beauvais said on an episode of "The Real," as reported by Metro. "First of all, he's recently divorced. There hasn't even been time to reflect, to see what did I do wrong, what did he do wrong, what did she do wrong? And then all of a sudden we're engaged?" Beauvais, certainly no neophyte to the inner workings of reality TV, posited her theory. "I mean, it sounds to me like it's a storyline for next season," she quipped. 
Beauvais hasn't been the only one to express doubts. An anonymous source spoke to Reality Blurb, pointing out the convenient timing of the engagement in relation to production of the special about Williams, noting that Simon Guobadia would likely be part of the special "if he's still around."
Her wedding to Simon Guobadia will be a three-part event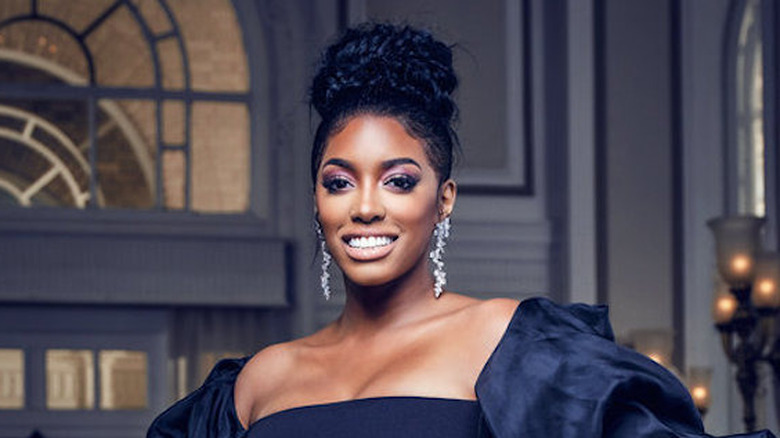 Less than a month after announcing her engagement to Simon Guobadia, Porsha Williams revealed she was already heavily invested in planning the couple's upcoming nuptials. During an edition of "Dish Nation," on which she's a co-host, she dropped some details about her wedding plans. Noting that her fiancé is African, reported People, "we will have our native law and custom ceremony and a regular wedding, and then we'll have another wedding at one of the houses that are out of the country," Williams said, revealing three ceremonies are planned.
In advance of the wedding, Williams told her "Dish Nation" co-stars about another way she commemorated her love for Guobadia. "I got my fiancé's middle name tattooed on my neck," she declared, adding, "it doesn't hurt and, you know, I think that's cute."
Williams revealed she also had one more ceremony in mind. "A funeral for the haters," she joked on Instagram, referencing the backlash to the couple's whirlwind courtship.
Porsha Williams' net worth may not be what fans expect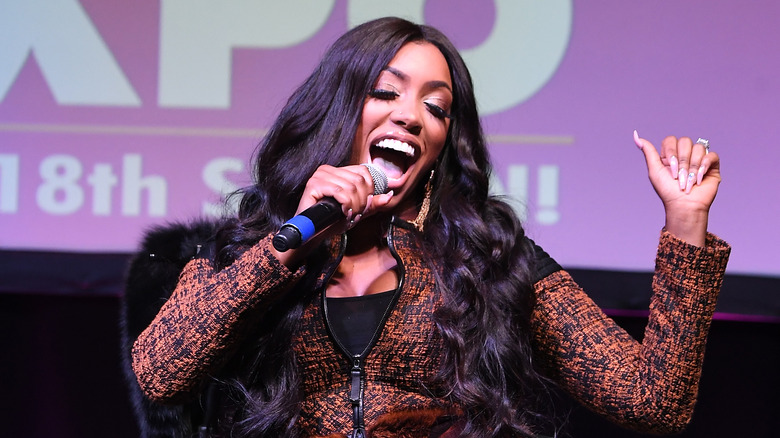 Porsha Williams has been a part of the "Real Housewives of Atlanta" cast since 2012. On top of that, Williams co-hosts "Dish Nation," penned the book "The Pursuit of Porsha," and launched other business ventures such as her Pampered By Porsha bedding products and a line of hair extensions called Go Naked Hair.
According to Celebrity Net Worth, Williams' fortune is valued at an estimated $400,000 — a decent amount, to be sure, but hardly what would be expected from a longtime reality TV star with all those irons in the fire. 
However, a report from The Atlanta Journal-Constitution indicated that Williams had experienced some serious cash-flow problems following her divorce from Kordell Stewart. In fact, money was reportedly so tight that her luxury condo went into foreclosure, and was sold at auction. In addition, court documents obtained by TMZ indicated that she owed nearly $18,000 to her condo homeowner's association, which filed a lawsuit attempting to garnish her wages. Meanwhile, All About the Tea reported that the daycare center she owned was likewise sold at foreclosure after she allegedly defaulted on a loan. 
Source: Read Full Article