Why Did Angelina Jolie And Jonny Lee Miller Get Divorced?
Angelina Jolie might be one of the most famous actors of all time, but her personal life seems to generate more headlines than her movie roles. (Her custody battle with estranged husband Brad Pitt is ongoing, and she infamously wore a vial of ex-husband Billy Bob Thornton's blood around her neck.
But Jolie's first husband was fellow actor Jonny Lee Miller, and they met on the set of the 1995 movie "Hackers," according to E! News. They called it quits once the film wrapped, but found their way back to each other. They married in 1996 with their own spin on wedding attire: Miller donned all leather and Jolie wrote his name in blood across the back of her shirt, per The New York Times. When asked about the unusual gesture, Jolie said, "It's your husband. You're about to marry him. You can sacrifice a little to make it really special."
Jolie and Miller broke up in 1997 and she filed for divorce in 1999. Have you ever wondered what went wrong with this brief marriage? Keep reading for more details.
There's no hard feelings between Angelina Jolie and Jonny Lee Miller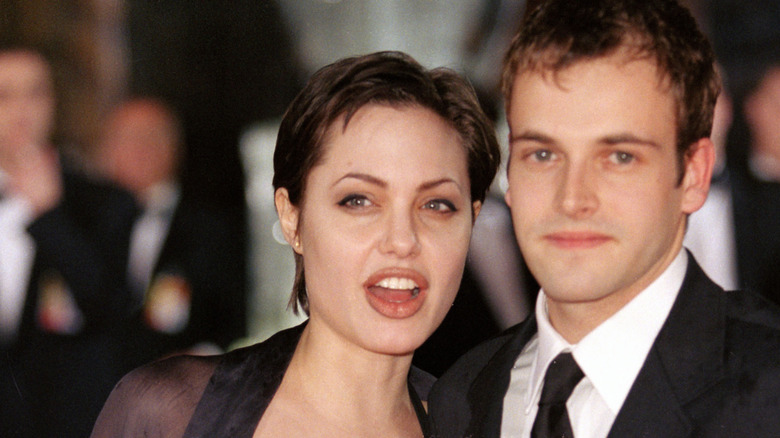 Although Jonny Lee Miller moved to Los Angeles to London to be with Angelina Jolie, she had a hard time adjusting to marriage, per the Mirror.
"You're suddenly somebody's wife. And you're like, 'Oh, I'm half of a couple now. I've lost me,'" she said. "We went on some morning show, and they threw rice on us and they gave us toasters. I was thinking, 'I need to get myself back.'" However, she believed she was the reason the marriage didn't last, telling the Calgary Sun (via the Mirror), it was a challenge to "be present enough, physically or emotionally, in relationships to get serious." Jolie spent a lot of time building her career, which meant a lot of travel. She did emphasize that "Jonny and I never fought and we never hurt each other. I really wanted to be his wife. I really wanted to commit."
As for Miller, he had nothing but good things to say about his ex-wife, per Heavy. "There are no regrets and no bitterness," he said. "Marriage was something that didn't work out, and I had to make the decision sooner or later. I decided to make it sooner." In 2017, he told the Brampton Guardian they were "still friends." Jolie echoed those sentiments in a 2014 Hello! report. Jolie even visited his Brooklyn apartment in June 2021, but they do not seem to be rekindling their romance anytime soon, per People.
Source: Read Full Article