Why 'The Chi' Fans Say Emmett Needs to Leave Tiff for Keisha
The Chi tells stories about the trials and tribulations of Chicago's residents. Since the Showtime drama premiered, it has highlighted the real-life relationships that transpire in the city.
Throughout the four seasons, viewers have watched Emmett (Jacob Latimore) search for love through multiple conquests. While many fans thought he settled down with his girlfriend, Tiffany (Hannaha Hall), others are still rooting for Emmett and Keisha (Birgundi Baker).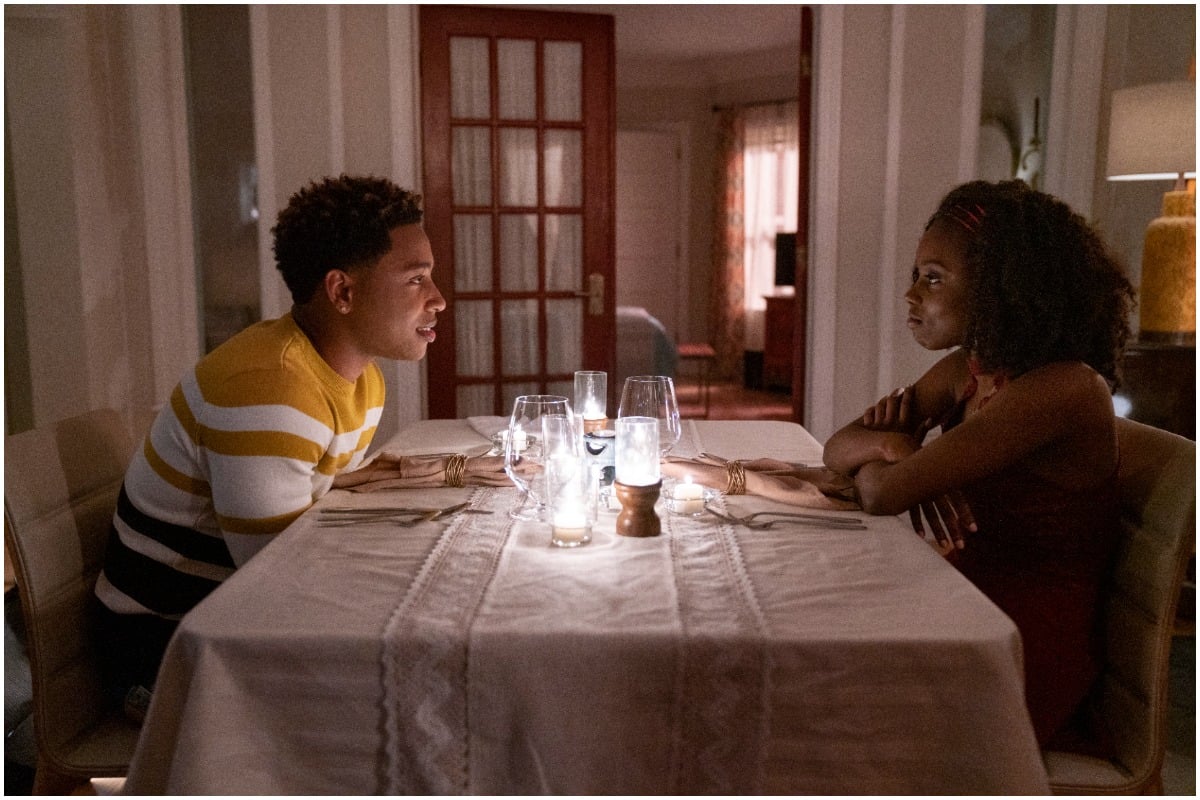 The reason 'The Chi' fans want to see Emmett and Keisha together
Emmett and Keisha were one of the first couples on The Chi. At first, the couple snuck around at their parents' homes in between school. However, viewers soon realized that Emmett was three baby mamas and Keisha. Ultimately, Keisha and Emmett broke up and moved on to other relationships. Before her kidnapping in season 3, Keisha briefly dated her track coach. Additionally, Emmett and Tiff got engaged.
Toward the end of season 3, Tiff and Emmett were seemingly headed in a positive direction. With their son, EJ by their side, the couple celebrated Emmett's restaurant opening. Unfortunately, he couldn't stay faithful to his fiancee. Soon, Emmett cheated on Tiff with his co-worker, Dom (La La Anthony). 
Although some fans were mad at Emmett for his infidelity, others felt it was a testament to their incompatibility. Several Reddit commenters agreed that he should focus on his mom, Jada's (Yolonda Ross) cancer diagnosis, or his ex. 
"I would concentrate on his momma and Keisha and maybe La La once in a while..let tiff miss him," one fan suggested.
"He needs Keisha," another said.
'The Chi' fans say Emmett and Tiff are 'unrealistic'
Even though he cheated on Tiff, Emmett went through with marrying her. During season 4, however, the guilt from his infidelity caught up with the character. Eventually, he confessed to cheating on Tiff with Dom. Although she chose to stay with him, Tiff suggested they try having an open marriage.
Throughout the following episodes, Tiff and Emmett juggle their new dynamic while raising their son, EJ. While some The Chi fans enjoyed the storyline, many commenters felt it made the relationship seem inauthentic. 
"Willingly letting your wife detach herself physically and emotionally is dumb," one commenter said. "Not only do you run the risk of losing your woman anyways, but she could end up with an std or pregnant while she's still dealing with you."
"On top of that, what kinda example are you setting for your son?" they continued. "My problem with this storyline is it's super unrealistic. He should've said No to that open marriage, and if she disagreed or fought him on it, he should've divorced her."
How old is Keisha from 'The Chi' in real life?
Over the past four seasons, Keisha has become a character many fans want to see win. In addition to her relationship with Emmett, Keisha wanted to leave Chicago on a track and field scholarship. However, she lost her scholarship in season 3 after being kidnapped. When she returned home from the abduction, Keisha became pregnant. 
Despite playing a teenager, Baker is in her late twenties. The actor, whose past credits include Empire, Chicago Med, and Chicago P.D., is 29.
Source: Read Full Article