Reza, GG and MJ from Shahs of Sunset Give Updates on New Projects Post-Show Cancelation (Exclusive)
The three of them all have reality shows in the works — with one actively trying to get onto Summer House: Martha's Vineyard!
Reza Farahan, Golnesa "GG" Gharachedaghi and Mercedes "MJ" Javid may not have a show currently airing on Bravo, but that didn't stop them from scoring an invite to BravoCon over the weekend.
The three Shahs of Sunset stars were on hand for the fan convention in Las Vegas, two years after the network canceled the series following its ninth season. There had been initial talk about a spinoff series focusing on just the three of them and Bravo clearly still likes this trio enough to put them on panels all weekend long … but is anything currently in the works?
When asked by TooFab when we'll see more of them on Bravo, Reza responded, "I don't know about Bravo, but more on TV for sure." Added GG, "You guys will see us!"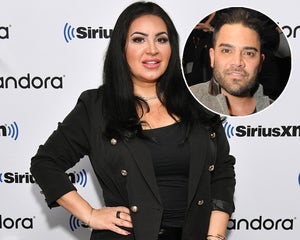 MJ Reacts to Shahs of Sunset Cancelation, Mike Shouhed Domestic Violence Allegations
Farahan went on to tease MJ competing on the second season of The Traitors, as well as his own appearance on Freevee's upcoming The GOAT competition series. GG, meanwhile, said she's "trying to get on '[Summer House] Martha's Vineyard,' because I want a piece of Amir, he's really juicy."
Farahan is also pitching a home renovation show with his husband Adam and working on another similar series with GG, he said.
"Adam and I bought the house right across the street from us, we moved into it and turned the home that we were living in into a super lucrative Airbnb. I was like, there's a show here," he explained. "I hit up a production company that does shows that are more HGTV style. I'm working with them and keeping my fingers crossed. I'm also working on a project with GG about motel renovations."
Why Brandi Glanville, Kate Chastain, Reza Farahan & Bachelor Arie Felt Targeted on The Traitors (Exclusive)
GG said "every single person" at BravoCon who approached them wanted to know when they'll be on TV again, joking, "I wish there was like, AI that could give the response. Ask the execs!"
The trio also shared where they stand with the rest of their Shahs cast members, saying they were planning to see Destiney Rose later in the day, are still friends with Lilly Ghalichi and were sending "love in Mike's direction," with Reza noting Shouhed was "on his own path right now." They also revealed Shervin Roohparvar is getting married soon, adding, "There's a lot going on!"
See more interviews, viral moments and photos from BravoCon here!
Source: Read Full Article