US trailblazer and longest-serving female senator Dianne Feinstein dies at 90
Save articles for later
Add articles to your saved list and come back to them any time.
Washington: She was the longest-serving female senator in US history, a trailblazer for women in politics and a champion for social justice and gun control.
But after a series of debilitating health issues, Dianne Feinstein – the oldest member of Congress – has died, aged 90.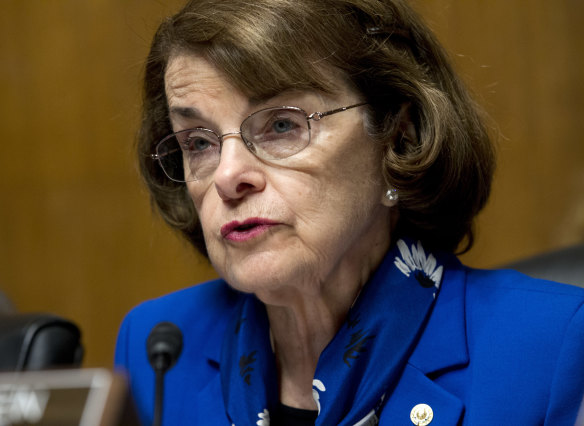 Senator Dianne Feinstein in 2018.Credit: AP
Bipartisan tributes began pouring in immediately when the news of Feinstein's death broke on Friday morning (US time), as pressure intensified to find a replacement quickly in a fiercely divided Congress that's heading towards a government shutdown.
Two dozen white roses were placed on her desk by members of the Senate, led by Democrat Majority Leader Chuck Schumer, who choked back tears as he remembered his colleague as someone who changed the fabric of the chamber forever.
Fellow Californian and former House speaker Nancy Pelosi described her as a "pillar of public service," whose career spanned from San Francisco's City Hall in the 1970s – where she found the assassinated body of activist Harvey Milk, California's first gay elected official – to the US Capitol in 1992.
Dianne Feinstein and Joe Biden watch on during former president Barack Obama's inauguration as he embraces civil rights leader Reverend Joseph E. Lowery Credit: AP
And President Joe Biden, who served with Feinstein in the Senate for 15 years and recruited her to the Senate Judiciary Committee when he was its chairman, described her as a loyal friend who was tough, sharp, and "never pulled a punch."
"There's no better example of her skilful legislating and sheer force of will than when she turned passion into purpose, and led the fight to ban assault weapons," Biden recalled.
"Dianne made her mark on everything from national security to the environment to protecting civil liberties. She's made history in so many ways, and our country will benefit from her legacy for generations."
In a political career spanning more than five decades, Feinstein was a history maker and a glass-ceiling breaker.
Sean Penn played Harvey Milk on the big screen. Feinstein was the first person on the scene after the real Harvey Milk was assassinated.
She was the first female elected to the San Francisco Board of Supervisors in 1971, and later became the city's first female mayor after the murders in 1978 of city supervisor Milk and then-mayor George Moscone.
"I found Harvey on his stomach. I tried to get a pulse and put my finger through a bullet hole. He was clearly dead," she told her local newspaper at the time.
She later became California's first woman elected to the Senate, and has since been one of the most vocal advocates of gun control measures. She championed the assault weapons ban that lasted 10 years after then-president Bill Clinton signed it into law in 1994. Biden, with Feinstein's support, has been trying to reinstate the ban since winning the White House.
Feinstein was also the first woman to chair the Senate Intelligence Committee, where she led a contentious review of the CIA's detention and interrogation program after the September 11 terrorist attacks. That review resulted in laws barring the use of torture methods.
In recent years, Feinstein had faced a series of health problems and cognitive decline, sparking a broader debate in Washington about the gerontocracy of America's political class.
As the oldest representative in Congress, Democrats urged Feinstein to resign after an extended absence from work following a shingles diagnosis in February.
She returned to work in June and had announced she would not be recontesting her seat, but often appeared fragile and confused. This was evident in August when she unexpectedly began reciting a speech during a vote in the Senate and had to be told by colleagues to "just say 'Aye'."
The unnerving episode took place one day after Senate Republican Leader Mitch McConnell, 81, had to be escorted away after freezing for 23 seconds during a press conference, prompting questions about whether some of America's most senior politicians should still be in office.
Republican Senate Minority Leader Mitch McConnell froze during a press conference in July.Credit: AP
Some candidates such as former UN ambassador Nikki Haley, who is vying for the Republican nomination against Donald Trump, are now pushing for term limits in Congress and mental competency tests for politicians over 75 years old.
"America is not past our prime – it's just that our politicians are past theirs," Hayley, 51, declared when she launched her candidacy for the presidency earlier this year.
Feinstein's death has now paved the way for a potentially bruising battle within the Democratic Party over who will take over her prized seat in California, which has been in the middle of a once-in-a-generation race to succeed her ever since she announced she would not seek re-election.
With a government shutdown looming, California Governor Gavin Newsome came under immediate pressure on Friday to quickly name a replacement as Congress was set to vote on a spending plan in the coming hours to avert a government shutdown.
Newsom has committed to appointing a black woman, but with more than a year left in Feinstein's term, the issue is likely to cause internal ructions among Democrats.
Three federal politicians are currently in the race for her California Senate seat: Adam Schiff, Katie Porter and Barbara Lee, the only black woman running.
Get a note directly from our foreign correspondents on what's making headlines around the world. Sign up for our weekly What in the World newsletter.
Most Viewed in World
From our partners
Source: Read Full Article